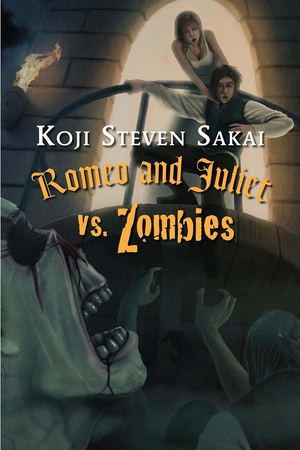 In William Shakespeare's iconic tragedy, Romeo and Juliet, the heroine Juliet utters the famous phrase, "O happy dagger" just before killing herself over the body of her dead lover, Romeo.
But in Koji Steven Sakai's reimagined version of the classic, Juliet finds a better use for her bladed weapons. At a time when zombies are taking over the city, Juliet becomes a sword-wielding warrior.
The result is Romeo & Juliet vs. Zombies, Sakai's new novel, published by Luthando Coeur. In it, the Nikkei author and creative multi-hyphenate Sakai irreverently turns Shakespearean Verona into a violently bloody landscape worthy of Dawn of the Dead.
"I've been obsessed with Romeo and Juliet ever since I read it way back in middle school," says author and creative multi-hyphenate Koji Steven Sakai. "So when I came up with the idea of adding zombies to Romeo & Juliet, I was very, very well-versed in the story and didn't need to do any research."
That familiarity with the nuances enables Sakai to envision new stories in the margins. "For example, I find it interesting that people seem to forget that before Romeo was in love with Juliet he was in love with another woman named Rosaline," Sakai says. "Granted, she doesn't appear in the play, but she is mentioned—twice I think—and it is the reason he goes to the Capulet party where he meets Juliet."
While Sakai is best known for his work in film (The People I've Slept With), he found that his new novel became both a welcome departure and a natural extension of his screenwriting.
"The book was originally a script that I turned into a novel," he explains. "The biggest challenge I faced was trying to write in novel format. I hadn't written prose in a long time. It was a fun and scary process! I've written three scripts about Romeo and Juliet before I even thought about Romeo & Juliet Vs. Zombies."
Recasting Juliet from a victim of fate into a take-charge soldier capable of dismembering zombies was key to retelling the story.
"My female characters are probably the most recurring things in my stories," says Sakai. "I gravitate toward stories with strong female leads. It's probably because I've always related to women better than the men."
"My writing has evolved in that I write less and less about myself," he adds. "When I was younger, my writing was thinly veiled stories about me. Over the course of time, one would be hard pressed to find 'me' in the stories. In terms of themes/techniques, I am much more interested in horror than I used to be. Don't get me wrong, I've always loved horror, but as I've gotten older I've become more open about that love."
In particular, Sakai notes that he relishes zombie books and "post-apocalyptic dystopian" novels. "So pretty much anything in those genres I've read and liked. My fascination comes in part in the questions that come up when society no longer exists."
Sakai also credits author-poet-screenwriter-filmmaker Sherman Alexie as an inspiration. "I love everything he's ever written."
Unlike some other Asian American creative talents who faced culturally influenced resistance from their families, Sakai says that he was always encouraged to pursue his writing, no matter how outrageous the subject matter. "I was lucky—my mom always told me I should do or be whomever I wanted to be," Sakai notes. "She said that it was my life, not hers. I appreciate that. However, what's ironic, is that I don't feel the same way about my son. I would prefer he not do something creative. Not because I don't think it's a great profession, but more because I know how difficult it is."
"So far everyone who has read Romeo & Juliet vs. Zombies and talked to me has liked it," says Sakai. "But then again, no one would come up to me and say they hated it and think I'm a horrible writer. So I guess I'd have to take the comments with a grain of salt. But I have gotten some nice reviews on Amazon from people I didn't know. It's soooo incredibly humbling to have someone spend the time to read my words. I appreciate every reader. My goal for them is to have a little fun and take them away from the drudgery of their everyday life."