Discover Nikkei readers may know taiko as an originally Japanese art, heard on obon nights as grandmothers encourage the community to join in a circular dance. Or perhaps they know it in its post-WWII performance variety. The famed Japanese ensemble taiko group Kodo, for example, tours around the world and brings their rhythms and notions of Japanese culture with them wherever they go…or perhaps readers have never heard of taiko.
Japanese drumming has been playing a unifying role in West Coast US Nikkei communities since its post-war migration to North America (see the Discover Nikkei interview with Seiichi Tanaka). Seiichi Tanaka, a farm laborer from Tokyo, Japan, founded San Francisco Taiko Dojo in 1968, in order to introduce the deep echoing sounds of real Japanese matsuris to the San Francisco Japanese summer festival.
It was under Tanaka sensei's tutelage, and Nikkei community inspiration, that a generation of prominent taiko performers and artists emerged in the 1970s and '80s. Roy & PJ Hirabayashi of San José Taiko, Kenny Endo of Taiko Center of the Pacific, and Reverend Masao Kodani of Kinnara Taiko among many others used taiko in increasingly diverse and innovative ways—often as a means of expressing the Nikkei identity of themselves and their fellow players.
Over the past four decades, West Coast and Hawaii taiko groups have attracted hundreds of new players. Issei and Nisei instructors such as those listed above inspired Sansei, and even those with no prior connection to Japanese culture, to master the basics and compose their own versions of the art. In time these students founded their own groups, and so slowly the outline of group types and stylistic schools became more clearly drawn. Tanaka sensei's original dojo methods were modified into 4 distinct categories: performance, artistic, college, and community groups. Each of these tended to adhere to a particular performance technique and group dynamic, and thus naturally to attract a particular type of member. For example, more Nikkei families and their children gravitate towards community groups as a means of preserving Japanese heritage, while greater numbers of non-Nikkei musicians drift towards performance and artistic groups. College groups attract, well, college students; those with some interest in Japanese culture, in exercise, and possibly also in gym credit.
In 2015 there are over 250 taiko groups in the US, with the majority hailing from and around the West Coast.
But what of us East Coasters? What is the state of East Coast taiko in 2015, in relation to our Western predecessors? Have we taken on the same distinct group types and performance styles? Japanese drumming has taken its time migrating over to our side of the plains, and the taiko scene here is undoubtedly still in the process of differentiating its stylistic schools.
There is still nothing written on the developing East Coast taiko scene, so I rang up my first instructor Mark H. Rooney to get his opinion. Mark has spent nearly 20 years touring professionally, teaching, composing, and providing support for emerging college groups in the New England area. He seemed to imply that we East Coast players have come a long way, with a long way still to go.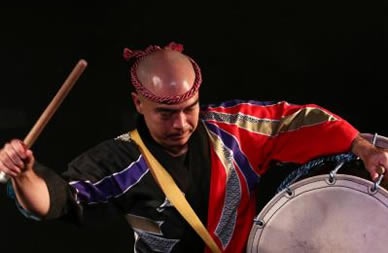 * * * * *
Do you think the East Coast taiko community is still nascent?
Mark Rooney (MR): The taiko community has been around for a while, and really took off in the last years of the '90s. We're developing, but still about 20-25 years behind the West Coast.
Are our playing styles descended directly from our predecessors over on the West Coast? Especially Tanaka sensei?
MR: Well, the people who started the East Coast taiko groups did descend from Tanaka sensei. But we've evolved and developed away from that style. We actually derive less from the West Coast, than from Japan.
Why do you think that?
MR: Well, this is just my opinion. I would suggest that you ask some other older teachers and groups—like Alan Okada, Marco Lienhard, or members of Triangle Taiko in North Carolina. Those guys have been around longer than me, and would probably have different ideas.
For me, I think it's partly because East Coast taiko doesn't exist in a Japanese American population. Most groups have less influence from traditions compared to West Coast groups. They emphasize the community and musical aspects more than the cultural aspect.
There's something to be said for spreading the cultural roots of taiko. Everyone can really do it, but for many people it's a connection to cultural identity. On the West Coast that was the foundation. But we don't have pockets of Japanese Americans over here—so more people draw inspiration directly from taiko's Japan origins [rather than Nikkei heritage]. And they also draw inspiration from general musical knowledge that just happens to extend to taiko among many other instruments.
Where do you think we are in relation to the West Coast? Does the East Coast community differentiate between professional performance, artistic, community, and college groups?
MR: The short answer is that we're about 20-25 years behind the West Coast, like I said. The long answer is that we're at the beginning of a phase where we start to recognize and understand the difference between professional performance, artistic, and community groups. Though they all really do kind of meld together in general. Because what does "professional" mean? To earn money? Everyone has a different definition. Community groups perform for money too.
But anyway, we have had several turning points. Groups are arising in all different areas, and the rise of collegiate taiko in particular has been very important to this. College groups have been far more crucial to taiko's spread over here than on the West Coast.
* * * * *
Mark painted a picture in our interview of a very real East Coast taiko scene, with its own unique history devoid of conspicuous Japanese-American inspiration. Perhaps his own teachers and predecessors—Alan Okada of Soh Daiko and Marco Lienhard of Taikoza—would disagree with him. But regardless of history, and questions about the level of Nikkei influence, it will certainly be fascinating to monitor the course of its growth in years to come.