Born in Aki-gun, Japan in 1878, Asataro Yamada first came to the United States in 1898 into the port of Seattle at a time when there were few restrictions on Japanese immigration. He then worked as a sailor for many years on ships that sailed all over the Pacific. He worked as a farm laborer, ran his own hardware store in Seattle, sold Chevrolet cars, and taught people from Japan how to drive, according to his grandson Byron Ishiwata. He and his wife Fusa had five children, all born in Seattle in the 1910s (one of them died as an infant). In 1927, he was struck with a near-fatal case of pneumonia. A believer of the Konko (also known as Konkokyo) faith prayed for him, which led to a miraculous recovery, according to his testimony to the authorities during World War II. Yamada was so moved by the powers that restored his health that he became an ordained minister and devoted the rest of his life to serving the Konko Church. He returned to Japan to be trained by the church in 1928, became a minister in 1933, and moved to San Jose, California and founded the San Jose Konko Church. He and his family lived on Washington Street in San Jose until his arrest in 1942.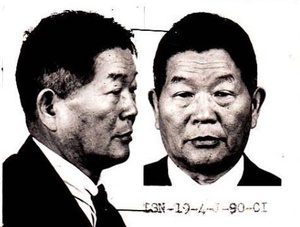 Like many Shinto and Buddhist ministers, Yamada was arrested by the Federal Bureau of Investigation in the weeks following the attack on Pearl Harbor. Initially apprehended at his home in San Jose on March 20, 1942, he was taken to San Jose City Jail, to San Francisco two days later, then to Sharp Park Camp near Pacifica. Sharp Park was a camp run by the Department of Justice where Japanese "enemy aliens" were detained until they were released. After they were released, they joined their families at War Relocation Authority camps such as Manzanar and Poston or sent to Fort McDowell on Angel Island, where they were then sent to other camps in the mainland of the U.S. such as Lordsburg and Santa Fe in New Mexico.
Rev. Yamada had to face an Alien Enemy Hearing Board in San Francisco on May 2, 1942. Several days later, the FBI issued an internal report. It noted that the investigation is "predicated upon information contained in San Francisco File 100-4542 which indicated that priests of the Konkoyo Church have direct connection with the Shinto Church in Japan and to the Japanese government." On May 22, the board recommended that Yamada be interned. It noted, "As Shinto priest he is responsible for the collection of funds which are sent to Japan. He frankly admitted to the members of the Board that it was his duty, as Shinto priest, to teach and spread and propagate the Shinto beliefs among Japanese in this country and that he was actively engaged in so doing. In view of this fact the members of the Board became convinced that he was a potentially dangerous alien enemy to leave at large and therefore recommend his permanent internment."
Yamada stated during his testimony that he had a son who served in the U.S. Army, in the Signal Corps Headquarters in Leavenworth, Kansas, but that did not help his cause. His church was affiliated with a church in Japan, therefore the government believed that the Konko church was part of the Shinto religion, he was interned.
The FBI issued an order on July 13, 1942 that Yamada be interned, and he was sent to Angel Island on July 24, 1942, then to Lordsburg, New Mexico on August 27. He petitioned for a rehearing in January of the next year, and eloquently wrote, "I had never violated any federal or state laws of this country for my 43 years of long life [in America] and I am confident that I spent my life in peaceful manner and I had always maintained my good-will and loyalty to the United States. Both my wife and I had brought up our children strictly under American idealism which is nothing but liberty and justice founded on the principle of the great Constitution of this beloved country. Because of all this my children are well liked by other white American citizens. They had splendid school records all through the grammer [sic] to high schools and had received many letters of merits in their school in the past.
"I am very proud that one of my children has been accepted as the Armed Force of the United States. In other word both my wife and I are glad to serve this country by giving our son away to this country. My son, Samuel S. Yamada, is also very proud that he is in the Army. For this reason, I still cannot understand why the government of United States had arrested me as an Alien Enemy and interned me separately from my family. I sincerely hope that this mistake that the government of the United States made will not affect the loyal thoughts of many Japanese-American soldiers who are now in the Armed Forces of America. For this reason I wish to appeal Your Honor again to reconsider my case and grant me a Rehearing so that I can reunite with my Family now residing at Block 14 – 2 BX, Heart Mountain Relocation Center, Wyo.
"…The Konkokyo is the most peaceful religion and in its doctrine is entirely independent from the ancient Japanese Shintoism. In fact it is the religion of universal love among mankind which teaches the eternal life of our spirit similar to the doctrine of Christianity even though the method of teaching is entirely different from the latter. For this reason I am confident that this religion will help all the people in this world by teaching them how to live peacefully and with brotherly love among men and women."
On February 24, 1943, in response to his petition for rehearing, Yamada appeared before another Alien Enemy Hearing Board, this time in Lordsburg, NM, where he was interned. At that time, he stated that his religion was different from Shintoism. He was asked, "Do you consider the Emperor divine?" and he replied, "No, he is just a human being."
Trying to find a connection between his church and the Emperor of Japan, the alien board members asked him, "If the Emperor of Japan gave an order to your church in the name and for the sake of Shintoism, would you accept and preach that order?" Yamada replied, "No our group is a different division of the Shinto and I will not accept order of Emperor and I leave everything up to the decision of the officers and the members of our church."
Further pursuing the connection with Japan, members of the alien board asked because the head of the church was in Japan, "…it would follow that in the continuation of your church affairs, as an official of the church, you receive your instructions from this town in Japan and the people there?" Yamada replied, "In this Konku Kyo [sic], nobody ordered us to do anything and we didn't receive any help from them. It is up to the individual to make missionary work for that reason and then if a member wants to be a member then he becomes a member, nobody forces him to become a member and that is different from regular Shinto… I didn't receive any orders what to teach."
Board member Wishard asked, "Do you think you would be better off in this country, you and your family, if it was ruled by the American people or ruled by the Japanese Empire?" Yamada replied, "I have been residing in this country for 45 years and received many obligations and benefit from this country, and also all of my children are American citizens, and one of them is already in the American armed forces, therefore I believe that way, yes, it would be better that this country be governed by American people."
When asked if he had anything else to say, Yamada said, "It was quite strange for me that I was interned at this place because, during my long years of stay in this country, I have always respected the law and never violated any regulation or law, and I don't believe I have done anything against this country and the welfare of this country. I have always paid income tax and before I became a minister, a priest, I was engaged as a plumber in an electric shop, but I have always paid income tax and I don't think I have done anything wrong in this country and even after I was apprehended I worked four months at laundry at other detention camp, and six months at hospital in this internment camp without even one day's rest, and I think I have done for the United States something and I don't know why I am interned here."
| | |
| --- | --- |
| | |
Yamada's answers must have satisfied the board, along with several letters from his wife to the authorities, because he finally was allowed to join her at Heart Mountain, Wyoming, in July of 1943. They were finally released from Heart Mountain in October of 1945. He then returned to run the church as first head minister until he passed away in 1952, with Fusa serving as second head minister (see photos of them above courtesy of Byron Ishiwata). Fusa succeeded him as head minister in 1952 and served until 1978, when their daughter Haruko became San Jose's head minister.
*This article was originally published by the Angel Island Immigration Station Foundation.