Masako Iwawaki Murakami's parents seldom talked about the years the family spent in an American concentration camp during WWII. Masako was 8 years old at the time and remembers how earnestly her mother and father tried to maintain a sense of normalcy for their children in spite of the extraordinary circumstances brought on by the Japanese attack on Pearl Harbor.
One day recently, Masako came across a letter her mother had written to a friend at another concentration camp in Topaz, Utah on August 15, 1945. The letter's date coincided with the day Japan surrendered and brought the war to an end. Masako had the letter translated.
"There's a rumor going around that Japan lost the war," Masako's mother wrote. "But everyone talks a lot so you can't believe everything you hear." The rest of the letter talks of things that one might consider mundane—sewing classes, children in school, and such. But there was nothing mundane about being imprisoned behind barbed wire.
Reading it for the first time, Masako was able to peer into her mother's soul and experience what she thought and how she felt.
In an attempt to discern the loyalty of Japanese Americans who would serve in the U.S. Army, the government issued a loyalty questionnaire in 1943. Questions 27 and 28, in particular, put many Japanese Americans in an untenable position. Masako's father became one of the 8,000 who answered "no-no." As a result, the family was sent with other no-no's from Gila River, Arizona to Tule Lake, where security was tighter and expatriation to Japan was an option.
For a long time, people didn't want anyone to know they were in Tule Lake. "[My parents] suffered, but they didn't want us to know how much." There were killings and riots, but very often the children never knew about them.
"I think things are different now. That's why a place like the Japanese American National Museum needed to be built. Somehow, these stories have to be carried on," Masako says. "No-no's were very proud. They were the brave ones. They were not the bad guys."
Masako credits her mother, who always seemed to be helping others, for "setting an example." Six years before the Museum opened its doors in 1992, Masako was among the fledgling institution's earliest volunteers.
The original JANM office was on 3rd Street. Nancy Araki was the first staff member. "We would go out and ask friends and relatives to give money," Masako remembers. "A lot of Issei were still alive then, so we were able to go around collecting artifacts from different homes."
Masako has been a volunteer ever since. In fact, at the Museum, she met a fellow volunteer, Richard Murakami. In 1997, they became the first couple to marry while serving as volunteers.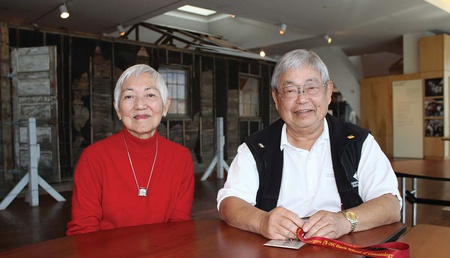 Thanks to her parents, Masako was shielded from the harsh realities of war. Instead, she retains fond memories of ice skating, of dedicated teachers, of close friends walking to the camp library together, and of treasured postwar reunions.
"I work with people who work hard and expect nothing in return," she says proudly. As for her mother's letter, she plans to donate it to the Museum.
* Mrs. Murakami was interviewed by Tomomi Kanemaru and the article was written by Ellen Endo for Voices of the Volunteers: Building Blocks of the Japanese American National Museum, a book presented by Nitto Tire and published by The Rafu Shimpo. This story has been modified slightly from the original.

Presented by