In an intergenerational reading held at the Japanese American National Museum on Saturday, March 15, 2014, Sansei poet and editor, Brian Komei Dempster, read these two poems, "Crossing" and "Steamer Trunk," along with other work from his debut collection, Topaz, which looks at the legacy of the camp experience and its impact on younger generations (see Topaz book page).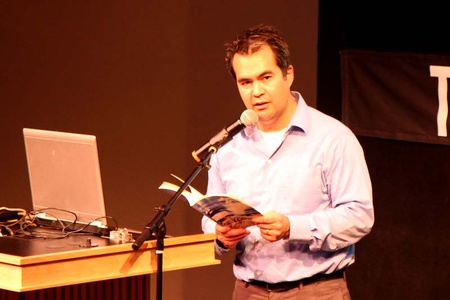 Dempster also discussed his community-based writing projects and anthologies, in which Japanese Americans—mostly Nisei—tell their stories of wartime incarceration and post-war resettlement. Joining Dempster was project participant Toru Saito, who sang and played music, along with prominent Nisei writer, Wakako Yamauchi, whose granddaughter Alyctra Matsushita, read excerpts from Yamauchi's dazzling story collection, Rosebud (University of Hawaii, 2011, edited by Lillian Howan).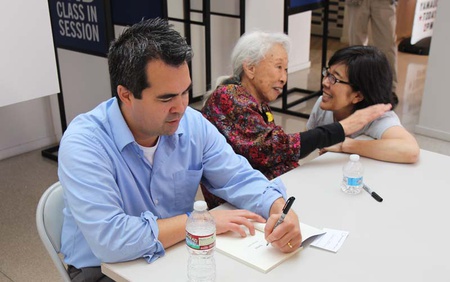 * * * * *
Crossing
No turning back. Deep in the Utah desert now, having left one home
to return to the temple of my grandfather. I press the pedal
hard. Long behind me, civilization's last sign—a bent post
and a wooden board: No food or gas for 200 miles. The tank
needling below half-full, I smoke Camels to soothe
my worry. Is this where it happened? What's left out there of Topaz
in the simmering heat? On quartzed asphalt I rush
past salt beds, squint at the horizon for the desert's edge: a lone
tower, a flattened barrack, some sign of Topaz—the camp
where my mother, her family, were imprisoned. As I speed
by shrub cactus, the thought of it feels too near,
too close. The engine steams. The radiator
hisses. Gusts gather, wind pushes my Civic side
to side, and I grip the steering wheel, strain to see

through a windshield smeared with yellowjacket wings, blood
of mosquitoes. If I can find it, how much can
I really know? Were sandstorms soft as dreams or stinging
like nettles? Who held my mother when the wind whipped
beige handfuls at her baby cheeks? Was the sand tinged
with beige or orange from oxidized mesas? I don't remember
my mother's answer to everything. High on coffee
and nicotine, I half-dream in waves of heat: summon ghosts
from the canyon beyond thin lines of barbed wire. Our name
Ishida. Ishi means stone, da the field. We were gemstones
strewn in the wasteland. Only three days
and one thousand miles to go before I reach
San Francisco, the church where my mother was born
and torn away. Maybe Topaz in the desert was long
gone, but it lingered in letters, photos, fragments
of stories. My mother's room now mine, the bed pulled blank
with ironed sheets, a desk set with pen and paper. Here
I would come to understand.
* * * * *
Steamer Trunk
You know us well,
from Brendan teething in the church
to my mother's fenced-in thirst,
from the possibility of chocolate
to the tinny taste of eel. Slow carrier
of silver and sand,
from distance and troubled time
to us and our son Brendan,
who, in unknown sympathy,
wails on your lid
like his baby grandmother did
in Topaz prison camp
for her absent father. Makeshift crib
built by his gloved hands,
a wool blanket stapled as lining
for your splintered wood skin,
she quieted in you
calming to cricket-song
beyond barbed wire, her body
sheltered by you from the cold
that pushed through cracks
of the barrack door. Strongbox
of only what we can carry,
my wife Grace towels off Brendan,
and I set him down
on his nursery floor, pry you
open with a crowbar. We unload
your bent tinware and brittle-wicked candles
set for meals of unagi
from jagged lids of dusty cans
on my mother's birthdays in Topaz,
when her sisters Nori and Tae draped you
with wrinkled lilac silk.
Barrack heirloom table
they squatted at, we sweep out
and fill you with Brendan's ironed clothes
and toys, between sips of bottled milk
he crawls up to touch your sides
we wipe clean, tugs at your latch, temple chest
of rusted sweetness.
* "Crossing" and "Steamer Trunk" from Topaz (c) 2013 by Brian Komei Dempster. Appearing with permission of Four Way Books. All rights reserved.