Now, that I'm in my 50's I can say that I've gone through many name changes.

Growing up in Orange County I went by Diana Keiko Ando until college when I spent my junior year abroad at Waseda University in Tokyo. It was then in 1976 that I became known as Keiko. This was definitely a positive life changing year in my life! I feel so lucky to experience life in Japan. I truly treasure my Japanese heritage and I am proud to have a Japanese middle name.
I've had several funny stories since those days, because some people don't realize Diana Ando is also aka Keiko Ando, it's the same person. It's even more confusing for us women because upon marriage some of us change our last names. Today, I'm known as Diana Keiko Ono.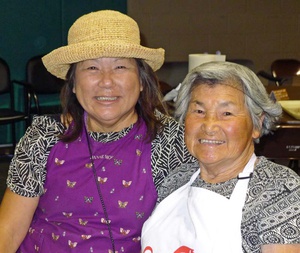 My passion during my free time is working with the Japanese American youth and the senior citizens here at Orange County Buddhist Temple. Most people here call me Diana, Mrs. Ono, or Auntie Diana. I'm lucky that most of my daughter's friends call me "Auntie Diana" and are comfortable enough to talk to me about all kinds of matters in their life.
I don't feel like the nosey auntie or neighbor because I am truly interested in hearing about what each young person is doing, what they want to aspire to be, their goals and dreams. I always tell them: "you are young and there are so many opportunities in life, and you can do anything you want to do!" On the other spectrum, my mom's Kibei and Nisei friends call me, "Diana-san" and I'm always happy to talk with them about their lives and what is happening in our community. I feel personal communication is very important, whether it's verbal or written.
My favorite Japanese saying from 16th century Japan is "Ichigo Ichie" (One Time One Meeting) which translates to "Live life to the fullest and treasure every moment as it may be the last." If you know me, I try to live each day to the fullest and to make each day meaningful. Just like today, September 28, 2014 at the JANM Discover Nikkei Writing workshop at the OC Buddhist Church—all of us who are attending are truly blessed to be here together to learn from Patricia Wakida, Yoko Nishimura, and the JANM Staff. We don't know if we'll ever meet again but we can always treasure this wonderful afternoon we have shared together learning, laughing, and writing. Maybe one day we'll read a famous story or book written by Kelly or Elena, one of our young future writers.
Whether you know me as "Diana" or "Keiko," write me a message because I'm always interested in sharing a moment in life's busy schedule. I love meeting people and connecting them with other friends who may have similar interests. I always tell people to try to learn something new every day, challenge yourself and share the knowledge with others.
Life is too short to do nothing. Live life to the fullest = "Ichigo Ichie".

* This story was developed during the Nikkei Names workshop held at the Orange County Buddhist Church in Anaheim, CA on Septembeer 28, 2014.