Akemashita Omedetou.
Xin Nian Kuai Le.
Happy New Year & Auld Lang Syne.

This is how we welcome the new year in our Japanese, Chinese, and Irish American family. I am a third-generation Japanese American Sansei with roots in the Rocky Mountains. My husband's Irish American forebears journeyed to the Pacific Northwest across the Oregon Trail and he grew up in the Los Angeles San Fernando Valley. Our two daughters are first generation Chinese Americans, who joined our family through international adoption, traveling from China to Southern California cradled in our arms. Over the years, we've personalized our Nikkei-plus new year traditions, starting with Oshogatsu and incorporating new Chinese customs, with a dash of Irish. I fondly reminisce about my childhood celebrations and hope that I have established similar cultural connections for my daughters, mooring them with the love of family and our multicultural heritage.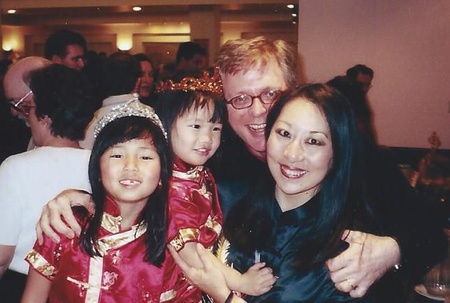 During my childhood in the 1960s and 1970s, our Christmas and New Year celebrations merged together as one long holiday of baking, cooking, and celebrating with family and friends. In Denver, where my brother and I were born, our family trekked from the suburbs to the Granada Fish Market and Japanese store to buy tai fish, fresh octopus and shrimp, mochi, dashi, and the ingredients for inari and maki-sushi. My parents hosted a New Year's Eve bash in our basement offering the delicacies, while my younger brother and I stayed upstairs with our sample plates of the party spread. We peered from our rooms to watch the guests arrive, the men in suits and the ladies in cocktail dresses with bouffant hair. We eavesdropped at the basement door listening to raucous laughter and Dave Brubeck's "Take Five" on dad's stereo. Despite the excitement we somehow fell asleep long before midnight. We spent New Year's Day at Auntie Sadami's watching football with our extended family.
We left Denver when I was 8 and moved every few years to different places often without access to Japanese food, but my parents carried on the traditions even if they had to improvise or drive for hundreds of miles for ingredients. No matter where we lived—Nevada, Montana, California, or Oregon—we always woke up on New Year's Day to my mother's ozoni with pink & white kamaboko and her admonition that it was bad luck to eat anything before we had this first meal of the year together. Later we dined on tempura, won tons, and teriyaki. We ate salmon instead of tai and onigiri instead of sushi. I made the carrot & daikon namasu and twisted orange slices into pinwheels. Although I winced at the taste, my mother insisted that I eat one bean of her favorite kuromame for good luck. Since we often were the only Japanese in the community, my parents introduced new friends to our traditions by opening our home and table on New Year's Day.
I wish I could say that I have continued this cooking tradition with my daughters but (with respect to my Issei and Nisei elders and a bit of shame), I am instead imparting the art of take-out, a luxury of living in Los Angeles. We head to Marukai for pre-packaged osechi, California rolls, and frozen gyoza, supplemented with grocery store fried chicken, but all arranged on our Japanese platters (it's the intention and presentation that counts, right?). Instead of kuromame I offer black Jelly Bellies. For luck, we toast with sparkling cider and slurp soba noodles at midnight and eat mochi upon waking. I make ozoni for myself, coerce my husband to taste mochi puffed in the microwave dipped in sugar & shoyu, and let my daughters eat mochi ice cream. The only other homemade dishes from my mother's menu are namasu and gohan. Our kagami-mochi and kadomatsu decorate the front entry table and I remind my girls, echoing my mother who passed away many years ago, to be on their best behavior to set the stage for a good year.
Then we transition for Chinese New Year, which we began celebrating in 1997, with the adoption of our first daughter. To honor my daughters' heritage, I consulted my Chinese friends and studied to incorporate new customs (and learned the history of my Japanese practices too). Our holiday celebrations now begin before Christmas when we decorate a special tree with the Asian ornaments we collect, including origami cranes, fortune cookies, kokeshi dolls, and Zodiac animals. I gladly put off the house cleaning until after January 1 and before Chinese New Year.
The week before Chinese New Year, we visit Chinatown to shop for special treats and decorations for our home—plum branches, lucky bamboo, lanterns, and Chinese couplets. When my girls were small, we trooped down Broadway Street searching for matching red qipao dresses and enjoyed fresh baked bao.
At home a bowl of mandarin oranges replaces the kagami-mochi to invite prosperity. We hang the character for fortune (fu) upside down on our front door, again inviting good luck. On New Year's Eve, we gather for a family dinner of take-out foods, including a whole fish (yu) symbolizing togetherness, long life noodles, Chinese Chicken Salad, and Panda Express orange chicken. Before bedtime, our daughters mumble words of appreciation to their dad and me to receive their hong bao red envelopes with a few dollars tucked inside.
In contrast to our quiet Japanese New Year, our Chinese New Year celebrations continue for weeks. For 12 years, two mom friends and I coordinated our Families with Children from China adoptive family organization's New Year banquets—gigantic events in Chinatown bringing together more than 1,500 adoptees, parents, and guests with a 10-course meal, lion and dragon dancers, and acrobats. Celebrating with their "China Sisters," marching in the Golden Dragon Parade, and helping me with banquet preparations—from wrapping auction prizes to folding napkins and coloring table numbers—became our adoptive family tradition and the highlight of the year.
The season ends with the Lantern Festival, when our family gazes at the full moon, prays with thanks for a happy and healthy year to come, and shares jiao zi dumplings (frozen gyoza again).
After the Asian holiday decorations are stored, we break out the shamrocks and shortbread and honor St. Patrick's Day by wearing green and toasting our ancestors, wherever in the world they may be. We add the luck of the Irish to our Japanese and Chinese new year quests for good fortune with a dinner of Irish stew (homemade by me!) over gohan, spinach tortellini, and emerald cupcakes for dessert. And then preparations begin for our Nikkei Easter.
* * *
My daughters are teenagers now. They prefer sushi over dim sum, but mix and match customs. While we've added our own family spin to tradition, the unifying theme in our annual blend of rituals is our mutually adopted heritage of belonging to a community and to one another. We toast with gratitude to being a family—a spirit we nurture throughout the year.
Here's to the bright new year
And a fond farewell to the old.
Here's to the things that are yet to come
And to the memories that we hold.
An Irish Blessing