On the afternoon of Wednesday, October 30, 2013, four current Japanese American National Museum (JANM) staff members and one past staffer emailed me about the death on the previous day of 47-year-old Karin Higa, the museum's longtime and highly esteemed former senior curator.
Several of these messages included an attached remembrance of Karin by Laura Kina, an artist and associate professor of art at Chicago's DePaul University, whose research focuses on contemporary visual art, Critical Mixed Race, and Asian American Studies. Like Karin, Laura was born in California and descended from Okinawan (Uchinanchu) American family roots. Confessing that she could not remember when she first met Karin, "as it seems that she has always been at the center of Asian American art and critical race art history," Laura clearly recalled their last encounter. It occurred in the East Room of the White House on June 3, 2013, when both of them had been invited along with numerous other artists and curators of color by First Lady Michelle Obama for an event that the White House Historical Association organized "in celebration of American art." Although Karin was stylishly outfitted, recollected Laura, the cancer then ravaging her body was betrayed to those in attendance by the loss of much of her hair, a general lessening of physical vitality, and an alarming thirst for water. Laura regretted that she had not availed herself of the opportunity presented on this propitious occasion to tell Karin how greatly she always admired her and how important she judged her to be. "She was honestly one of the smartest women I know," observed Laura. "She seemed so invincible… I guess I just assumed she would beat this, that she'd still be here… We are all going to miss her so much."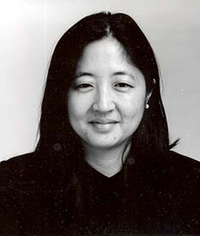 As for my memories of Karin, they go back to the year 2000 when I was introduced to her at JANM by Darcie Iki, the coordinator of the museum's Life History Program. Under Darcie's able direction, that program was then spearheading an ambitious four-city (Los Angeles, San Diego, San Jose, Chicago) collaborative study (with me serving as an advisory scholar) entitled REgenerations Oral History Project: Rebuilding Japanese American Families, Communities, and Civil Rights in the Resettlement Era. Darcie had given me an advance briefing on Karin, in which she extolled her as a brilliant art historian, one who had been connected with JANM since its official opening in 1992 and was now simultaneously completing an art history doctorate at UCLA while heading up the museum's Curatorial Department. In our brief introductory exchange, Karin's intelligence and professionalism shone through unmistakably. However, her manner struck me as being formally civil, bordering on brusqueness. I distinctly remember feeling that she was very probably not someone I would prefer to have as either a colleague or a supervisor.
As it turned out, though, in less than two years Karin became both my colleague and my supervisor. This situation came about because, in the wake of the 9/11 catastrophe in 2001, I was persuaded to take a staff position with JANM. The person who did the persuading was Lloyd Inui. Knowing that I was on the precipice of entering the early retirement program at California State University, Fullerton (CSUF), whereby I would maintain a half-time assignment with the History Department for the next five years before full retirement, Lloyd recommended that I use my free time to join forces with him at JANM, where he had been working since his early 1990s retirement as chair of California State University, Long Beach's Asian and Asian American Studies Department. Since I had enjoyed a fruitful working relationship with JANM for many years in my dual capacity as director of the CSUF Oral History Program and its Japanese American Project, I readily accepted Lloyd's offer. Accordingly, he told me that I would be enfolded into the museum's Curatorial Department and, like him, report to its very talented and dedicated leader, Karin Higa, for whom he professed the highest regard and affection.
When I showed up for my first day of work at JANM, Karin (then 35) invited me (then 63) into her office and greeted me, metaphorically speaking, with open arms. She somewhat hesitatingly explained the terms of my salary, which I found surprisingly generous, saying that she was a bit embarrassed to be offering me such a comparatively modest compensation for my services. She also told me that she had decided upon a job title for me, Senior Historian, and asked whether that met with my approval. "Well," I said, "it makes me sound so old." Without specifically saying so, she then intimated that her intention had been to assign me a rank befitting my background in the field of Japanese American studies, not to cast aspersions on my advanced age. She thereafter walked me around the department's work space, warmly introduced me to the other staff members, and then showed me my personal work station. I came away from this orientation experience with an encouragingly revised estimate of Karin's personality.
Since I was not a curator by any stretch of the imagination, I naturally wondered what my role would be within the Curatorial Department. I deduced that since the Life History Program had recently been incorporated into the Curatorial Department and its continued operation placed at risk by the decision of its leader, Darcie Iki, to get married and move to Hong Kong with her husband, I would be called upon not only to sustain the program but also to substantially expand and enrich it. But in my talks with Karin, she made it clear that she did not share my vision about the viability of a life history or oral history program within a museum. To her mind, oral history was not without considerable merit, though in the context of JANM, it should be seen not as the basis for an autonomous institutional unit, but rather as an instrumental activity in support of the museum's Curatorial Department and Media Arts Center. While temporarily disappointed and frustrated by this perspective, I soon came to understand and appreciate the wisdom of Karin's assessment, both in a programmatic and fiscal sense.
Where I really came to value Karin as a consummate professional curator, an innovative and resourceful teacher/museum administrator, and an altogether delightful and compassionate human being was during the Curatorial Department's weekly meetings. These gatherings were always enacted in a comfortable environment, enlivened by friendly banter, and eased by assorted comfort snacks. Nonetheless, they were pervaded by a prevailing sense of high, almost sanctified, importance. In short, as with all consequential intellectual activity, there was an exquisite admixture of playfulness and piety. Apart from Lloyd and I, the two retired social science college professors, the participants included the holder of a doctorate in folklore and another in history, two prospective recipients of doctorates in American Civilization and history, and several others pursuing advanced degrees in a variety of disciplines who had already published scholarly books, articles, or reviews.
The agenda for and the tone of these meetings was established by Karin, the holder of a B.A. from Columbia and an M.A. in fine arts from UCLA, who presided over the proceedings in the spirit of primus inter pares (first among equals). While she did not shy away from taking and defending strong stands on controversial and delicate issues, she invariably encouraged thoughtful, informed, and candid opinions from the rest of the staff so that policy decisions (such as the subjects for future museum exhibitions) were characteristically produced through a lively democratic process and endorsed by an operational group consensus.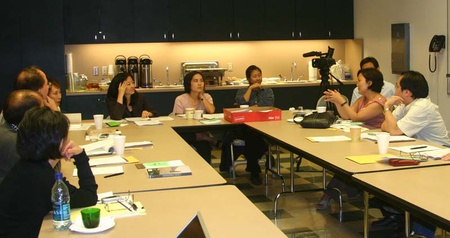 The highlight of these weekly Curatorial Department meetings for me were the animated discussions that ensued when one or more of the participants passed around detailed critical reports, replete with action recommendations, relative to potential museum donations of physical objects or multimedia documentary records. The group's shared burden was to decide whether to accept, wholly or partially, these tendered donations, or to respectfully decline adding them to the community-based museum's rapidly mounting inventory of collected resource material judged valuable to illuminating the Japanese American experience. Although Karin infused this decision-making procedure with her signature respect for prudential quality control, she was mindful that in a first-class museum the process of evaluating donations at the staff level went beyond the Curatorial Department.
Accordingly, each month the Curatorial Department would meet jointly with the Collections Department, which was comprised of professional archivists, librarians, and conservationists broadly familiar with the Japanese American story. Whereas the Curatorial Department's main concern was with amassing an extensive stock of artifacts, artwork, images, and printed items to support a variety of future museum exhibitions, publications, and films, the Collection Department emphasized keeping the size of the museum's holdings sharply limited by adherence to quality and suitability standards and by the amount of physical space available to house and protect them appropriately. At these monthly meetings, the two departments hammered out workable compromises that accommodated their disparate priorities.
On these interdepartmental occasions Karin was typically congenial and collegial, although when she felt that unjustifiable hindrances threatened to prevent the creation at JANM of a world-class compendium of Japanese Americana—one rich in scope, genre, and detail, while avoiding being redundant, storage-taxing, inferior in condition, and extraneous to the museum's mission—she could assume a heroic "attack mode" posture. In my opinion, Karin was pivotal in the acquisition by JANM of a research collection on the Nikkei experience in the United States comparable in quality and quantity to those of the National Archives, the University of California, Berkeley, and UCLA.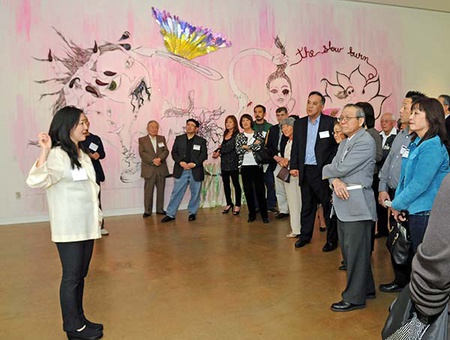 By the time of my transfer to the Media Arts Center after a two and one-half-year stint with the Curatorial Department, Karin and I had established an excellent working relationship. I was beholden to her for entrusting me to undertake a variety of writing and editing assignments related to ongoing and prospective projects and exhibitions. I was also flattered to have her take counsel with me on a regular basis with respect to my serving as a go-between with contacts of mine in both the academic and Japanese American communities. She also kindly let me prevail upon her time and vast knowledge to broaden and deepen my awareness and comprehension of not only Japanese American/Asian American art and artists, but also every dimension of the art world in the United States and beyond. I relished as well the opportunity she often extended to me to act as a point person for the Curatorial Department with visiting researchers to the museum. Then too, I profoundly appreciated her consigning to me a diversity of responsibilities pertaining to the topic of the World War II eviction and confinement experience of Japanese Americans and the research method of oral history.
The nature of our relationship remained intact during the remainder of my Senior Historian tenure at JANM, which came to a close in 2005. Moreover, it continued to flourish after both of us became part-time consultants for JANM. Notwithstanding that we rarely saw one another in person anymore, our virtual contact was both frequent and vital, and it was suffused with the palpability of a close friendship.
One of our special points of connection was that my wife Debbie and I got married and spent our honeymoon in 1977 on Mount Desert Island (MDI), a magical place off the coast of Maine that Karin knew very intimately as a result of her being a guest scholar there for many summers. We also returned there multiple times to refresh our marital vows and reinforce our bond of love. This situation led to a series of small yet very meaningful MDI gifts being exchanged between Karin and us. We mailed Karin the last of these gifts during a short MDI vacation that we took just a month before her death. It was a 2014 MDI calendar featuring monthly artistic photographs of the island's natural splendors. It was intended as a prophetic sign that she would win her struggle with cancer and go on to add luster to her already dazzling career and friend-filled life.
Although Karin's scenario played out differently, she has made her powerful claim on posterity, and those of us who had the good fortune to be her colleague and friend will always cherish her memory and promote her legacy to others deprived of this extraordinary blessing.