"Are you related to Mia Doi Todd?"

So asks Akira Boch, one of the Japanese American National Museum's videographers, as he and Jenni Nakamura set up the media equipment for the interview in the chambers of the Honorable Kathryn Doi Todd, Justice of the 2nd District Court of Appeal. The answer is yes, and Justice Todd lets us quickly ooh and aah over the pictures of her daughter, Mia—a prominent singer-songwriter—with her newborn child.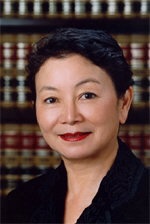 Justice Todd is certainly used to her daughter's celebrity. To be sure, though, this recognition goes both ways.
"Someone was in law school on the East Coast … [and] found out that Mia Doi Todd's mother had written this opinion—some law review article they were studying about something, I think it was about arbitration—and was astonished that there was a connection between the singer and myself," Todd said, recalling an incident in which a law school student and fan asked her daughter about her connection to the 2nd District Court of Appeal justice.
Todd's prominence in the legal community comes as no surprise. After all, Todd—who holds the distinction of being the first Asian American woman judge in the United States since she was appointed to the Los Angeles Municipal Court in 1978—has unquestionably made a name for herself as a judge over the past 34 years.
Beginnings
Born in Los Angeles in January 1942, Todd came into the world one month before President Franklin D. Roosevelt signed Executive Order 9066, which precipitated the mass incarceration of nearly 120,000 Japanese Americans on the West Coast into inland concentration camps.
Todd spent the first three years of her life first at the Santa Anita racetrack (which functioned as an assembly center during the wartime incarceration), then at the Heart Mountain War Relocation Center in Wyoming, and then at the Tule Lake War Relocation Center in northern California. After the war, Todd's family returned to Los Angeles, where she grew up and went to Los Angeles High School, graduating in 1959. She then went on to Stanford University where she graduated with a degree in history in 1963, after which she returned to Los Angeles. She eventually went on to Loyola Law School, where she received her J.D. in 1970.
But Todd didn't always want to study law. Prior to studying history, she had considered being an architect—but never a lawyer.
"I remember studying in the law library at Stanford, and I'd see just rows of books, sort of like here in my office, and I thought, 'Oh, my God, you have to read all of those books if you want to be a lawyer?' They all looked alike. It didn't look like a very interesting endeavor," Todd said. "And I didn't know any lawyers. I mean, I had no idea what it was to be a lawyer. So it wasn't something that I even thought about."
In fact, while she was at Stanford, Todd had been so inspired by a speech delivered by then-candidate John F. Kennedy that she signed up for the Peace Corps after graduation. She had already gotten her assignment to Nepal, and was getting ready to leave for training in Colorado, when her father was left debilitated after a serious stroke. Todd remained in Los Angeles to take care of him and the rest of her family.
During this time, she began working part-time for a Little Tokyo law firm headed by Robert Iwasaki who represented many Japanese Americans in the community. It was through working at this local law office that Todd witnessed firsthand how lawyers could do good.
"There were a lot of people coming in [to the law office] from the Japanese American community, and I just thought, oh my goodness, this was so wonderful how you could help people. So that was how I became interested in law," Todd said.
Opening Up Shop in Little Tokyo
After graduating from Loyola Law School in 1970, Todd turned down offers to practice criminal law at the Attorney General's office and the U.S. Attorney's office. She wasn't interested in criminal law. Instead, she opened up her own civil practice in Little Tokyo, a community to which she felt deeply connected.
"I had been going [to Little Tokyo] all my life. I had spent time working there," Todd said, remembering that in the 1950s she and her sister would dance in the Nisei Week ondo ceremony and visit Little Tokyo regularly. After renting an office space in Little Tokyo, Todd sent out announcements to family and friends and waited for business to trickle in.
"It seems incredible at this point. People just don't do those kinds of things anymore," Todd said, remembering the excitement of opening up her own law practice. "There were a handful of Japanese American lawyers—a few in the South Bay, [but] mostly in Little Tokyo. … So there was this little community. Everyone knew each other, and so many people gave me work. … [and] I was able to start a practice and make a living doing that."
Paving the Way for Japanese American Judges
Though there are more Japanese American and Asian American lawyers and judges now, that wasn't always the case. In her law school class at Loyola Law School, there were no other Japanese American women. And when Todd began practicing law in Los Angeles' Little Tokyo in 1970, she was one of only three Japanese American women lawyers in Los Angeles. The other two were Chiyoko Sakamoto and Madge Watai, both of whom she still remembers fondly. In 1978, when Governor Jerry Brown appointed Todd to the Los Angeles Municipal Court, she became the first Asian American woman judge in the United States.
In the mid-1970s, Edward Kakita and other Japanese American lawyers began laying the groundwork for what would become the Japanese American Bar Association (JABA), a professional network of Japanese American lawyers and judges that sought to increase representation on the bench.
"Ed thought that it was really important if we wanted to make a significant impact on getting judges appointed to the bench—JAs [Japanese Americans] appointed—that we really had to form a bar association," Todd said. "I really think one of the primary purposes of the Japanese American Bar Association's formation was to encourage appointments to the bench."
Before JABA officially started, Kakita would organize informal gatherings in his office or in restaurants around Little Tokyo. Eventually these informal get-togethers became institutionalized through JABA, with Kakita serving as the first president of the nascent organization.
Kakita and another JABA founding member, Rose Ochi, developed a plan to visit Sacramento and meet with Governor Jerry Brown's judicial appointments secretary at the time, J. Anthony Kline, to advocate for the appointment of qualified Japanese Americans to the bench. When Ochi could not make the trip up to Sacramento, Todd filled in and accompanied Kakita to Sacramento, where she first realized that a judgeship did not seem unthinkable.
"Tony Kline told us that Governor Jerry Brown was very, very interested in appointing minorities to the bench. And they were looking around the state for people to appoint. And, he said, that they were having a hard time," Todd said. "It had never, ever occurred to me to seek a judgeship before I heard that. And I thought, well, maybe I would have an opportunity to be appointed. And that's basically the reason I put an application in."
A few months after submitting the application for a judgeship, Todd got a call from Kline notifying her of her appointment to the Municipal Court. She remembers being not only excited but also a little scared.
"I had very little trial experience. I thought it was going to be hard, and I thought that there weren't any other JA [Japanese American] women who had been judges before," Todd said. "So I thought it was really important for me to do a good job. So I felt a lot of responsibility."
This sense of responsibility translated into Todd's unrelenting dedication and hard work, which continue to be central to her work as a judge.
"When I did preliminary hearings, I'd find out what cases were coming in the next day," Todd said. "And I'd read up on each of the crimes so that I knew all of the elements." She would even prepare flashcards for each crime so that she would not be caught unprepared in court the next day.
Even on the bench, Todd remembers finding a small community on the bench that supported and helped each other. The supportive network that developed among the group of judges who started together on the Municipal Court bench helped her through some of the challenges of being a new judge.
On top of the challenges of being a judge, Todd had to overcome some of the hurdles at home. Juggling her judgeship and her motherhood was far from easy, especially since Mia was only three years old when Todd was appointed to the Municipal Court bench.
"I think my biggest challenge when I look back was being a mother and a new judge at the same time," Todd said. In fact, Todd remembers that people used to ask her daughter if she wanted to be a lawyer when she grew up. Mia would say, "Oh, no. Lawyers don't spend enough time with their children."
On the other hand, Todd fondly recalls the time when she introduced her two-year-old daughter to a good friend and neighbor, Judge Robert Higa. Upon meeting him, Mia looked at her mother and said, "I didn't know men could be judges!"
On the Significance of Cultural Identity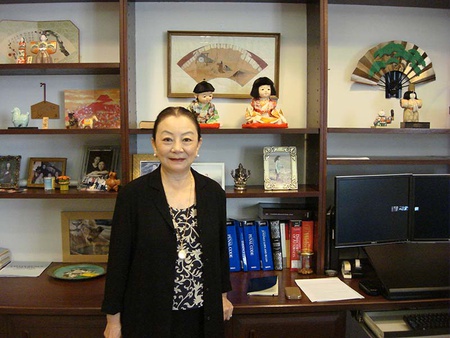 Sitting behind Todd's office desk are not legal tomes but rather traditional Japanese dolls, which reflect her keen interest in Japanese culture as a part of her own identity.
Though she was too young to vividly remember her own experience in the wartime concentration camps in the 1940s, Todd certainly remembers "the whole environment of the family coming back [after the war] and the difficult times that everyone had, and then learning more about it, and the sort of silence that prevailed about it"—and how it influenced her way of thinking.
"Except for references to 'before camp' or 'after camp'—things were always in terms of 'before camp' or 'after camp'—people didn't talk about the internal experience very much," Todd said. "But you got a sense of it, and I certainly did, and I think it had a significant impact on my worldview to have been part of that, to have been excluded just because I was of Japanese heritage."
Between her first and second year of college at Stanford, Todd visited Japan as part of an exchange program with Keio University. This trip served as a "critical experience" that ultimately solidified the personal importance for Todd of having a real sense of her Japanese cultural heritage.
Her sustained interest in Japanese culture led her to become involved with Little Tokyo's Japanese American Cultural and Community Center (JACCC), a center that promotes Japanese and Japanese American arts and culture programs. It also houses the offices of various nonprofit cultural, educational, and community-based organizations. Todd sat on the JACCC's board of directors for over twenty years before leaving a few years ago to allow younger people to step up and get involved.
Looking back on her own experiences growing up, Todd attributes her interest in Japanese culture and her subsequent involvement with the JACCC to her "not having a sense of being proud of being Japanese" when she was young.
"I thought, and continue to think, that [Japanese culture] was very, very important for the community at large, but particularly for my daughter. I wanted her to really have a sense of Japanese culture," Todd said. "I think Japanese culture is rich and deep and broad."
While she was involved with the JACCC, Todd took her daughter with her to participate in various cultural programs, like kabuki dance classes and koto (a traditional Japanese stringed instrument) lessons. After seeing a butō performance at the JACCC by prominent dancer, Kazuo Ohno, Todd told her daughter—who was away at college—to go see a butō performance on the East Coast. Mia did. She ended up writing her senior thesis in college on butō dance, and then receiving a fellowship from Yale to study butō in Japan with Kazuo Ohno and Min Tanaka.
"I wanted my daughter, who's Eurasian, to really be proud of being Japanese. And she is," Todd said. "And JACCC was very important in all of that."
Finding a Niche in the Court of Appeal
Todd currently sits on the bench of California's 2nd District Court of Appeal, where she seems to have found her niche.
"I enjoyed being on the trial court...and I enjoyed all the different assignments that I had, but [the Court of Appeal] allows you to be much more contemplative, and...it also permits you to see cases from the broad spectrum of the Superior Court," Todd said. "You get cases from every part of the Superior Court, so it's very interesting. And so I feel like I'm learning something new every calendar, or every group of cases that I get."
In addition, Todd firmly believes that an advantage of the appellate court is that "three heads are better than one." Insofar as judges are people, too—and people with different lived experiences and different worldviews at that—Todd appreciates the wide array of differing perspectives that are brought into deciding each case.
"This is really quite a wonderful place to be and work," Todd said.
In speaking to the importance of having role models and real-life figures to provide inspiration, Todd considered her own experience in relation to those of young people today.
"I really think it's important for someone to have aspirations in order to get somewhere, and unless there's something real that you can visualize or aspire to, it's just not part of your thinking. And I really...I didn't know any judges. It never occurred to me that that was a possibility," Todd said. "You know, it was sort of amazing, I thought, that I was even a lawyer. So, [being a judge] was not something that I aspired to. And that's why it's important for us to be out there so that young people can say, oh my God, you know, people can do this. You can do all of these things."
To view her official court profile, please click here.
Click here to view Justice Todd's oral history interview on Discover Nikkei >>