Over the previous four installments of this series, I have attempted to demonstrate many of the ongoing issues here behind-the-scenes at the Japanese American National Museum. We are fortunate to have so many priceless artifacts that help tell the remarkable history of Japanese people in the United States, but for every Namyo Bessho citizenship record, there are countless Joyce MacWilliamson radios. Furthermore, even for all properly documented items we have, it truly is beyond our ability and capacity to go one by one through each individual piece and attempt to properly contextualize it.
But every once in awhile, we get lucky.
This story begins with a historical figure named James G. Lindley. Mr. Lindley was born in 1888 in Moberly, Missouri, but eventually moved with his parents to Hemet, California around the turn of the century. James first attended the University of Oregon, but transferred to the University of Arizona, where he graduated with a degree in metallurgical engineering in 1913.
He would soon work as a copper smelter before joining the military as a chemical engineer. After being discharged from the military, he worked with the government in soil conservation and traveled throughout the country. By the start of World War II, he wanted to volunteer for the war effort and, through his work in the national soil conservation service, he was appointed as project director of Amache (Granada, Colorado).
While many of the camp administrators have been vilified in the years following World War II, such was not usually the case with Mr. Lindley, whom often struggled for the rights of Japanese Americans. In fact, it was also well known that he even sent his daughter to middle school with Japanese Americans in the camp. Many of the incarcerees at Amache had apparently established close relationships with him, which continued for years after. Here are some of the dozens of letters addressed to him that have been saved in our permanent collection: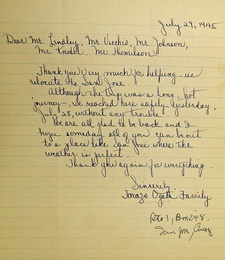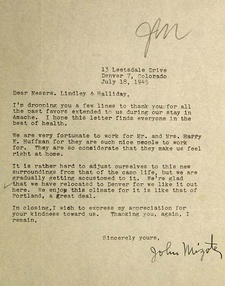 Most of the letters share similar formal messages of gratitude to Mr. Lindley for his instrumental role in helping them get through camp and also reinsert them into society outside of the fences. However, one particular letter especially caught my attention due to its unique style and character. In fact, its wording and style are not so different than an email a teenager or young adult may send today.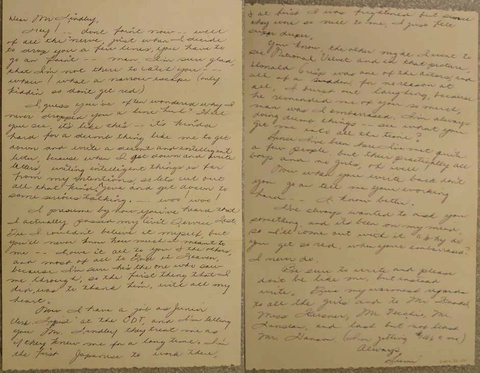 Dear Mr Lindley,

Hey! ...don't faint now...well of all the nerve, just when I decide to drop you a few lines, you have to go an faint…man, I'm sure glad that I'm not there to catch you…whew! What a narrow escape (only kiddin so don't get red)

I guess you've often wondered why I never dropped you a line huh? Well you see, it's like this…it's kinda hard for a dumb thing like me to get down and write a decent and intelligent letter, because when I get down and write letters, writing intelligent things is far from my intentions, so let's cut out all that kind of jive and get down to some serious talking…woo! woo!

I presume by now you've heard that I actually passed my Civil Service Test. Gee I couldn't believe it myself, but you'll never know how much it meant to me…I owe it all to you & the others, and most of all to God in Heaven, because I'm sure he's the one who saw me through, so the first thing that I did, was to thank him, with all my heart.

Now I have a job as Junior Clerk Typist at the ODT, and I'm telling you Mr. Lindley they treat me as if they knew me for a long time. I'm the first Japanese to work there, & at first I was frightened but since they were so nice to me, I just feel super duper.

You know, the other night I went to see National Velvet and in that picture, Donald Crisp was one of the actors, and all of a sudden, for no reason at all, I burst out laughing, because he reminded me of you so much, man was I embarrassed. I'm always doing dumb things...see what you get me into all the time?

Since I've been here I've met quite a few people, but their practically all boys and no girls, oh well!

Now when you write back don't you go an tell me your working hard...I know better.

I've always wanted to ask you something, and its been on my mind, so I'll come out with it "why do you get so red, when your embarrassed? I never do.

Be sure to write and please don't be like me, but instead write. Give my warmest regard to all the girls and to Mr. _____, Miss _____, Mr. Vecchio, Mr. _____, and last but not least Mr. Hanson (I'm getting $146 a mo.)

Always,
Sumi
Reading through this letter, a couple things are of particular interest. Unlike other more formal letters, Sumi does not hesitate to write down commonly spoken words like "man," "kinda," "gee," or even "woo!" Also, it is obvious that this young woman was close enough to Mr. Lindley (a man roughly 40 years her elder) that she does not hesitate making fun of him! Naturally, I was curious to learn more about this woman named Sumi Shigezane (sometimes misspelled Shigezani).
Having a somewhat unique last name, I also searched through Mr. Lindley's letters and found a charming Christmas postcard from a Masao Shigezane, who had apparently volunteered from Amache to join the 442nd Regimental Combat Team. This postcard also thanks Mr. Lindley for his contributions to the Japanese American troops abroad. Here is the postcard: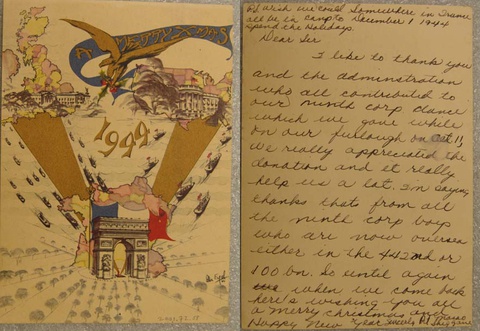 Somewhere in France
December 1, 1944

Dear Sir,
I like to thank you and the administration who all contributed to our ninth corp dance which we gave while on our furlough on Oct. 11, We really appreciated the donation and it really help us a lot. I'm saying thanks that's from all the ninth corp boys who are now overseas either in the 442nd or 100bn. So until again when we come back here's wishing you all a Merry Christmas and Happy New Year.

Sincerely, Pvt. Masao Shigezane

P.S. Wish we could all be in camp to spend the holidays.
Fascinated by the fact that I've already started to put this family together just through a common last name, I did a little more digging in some Amache yearbooks, and found a picture of Sumi with the Amache class of 1945: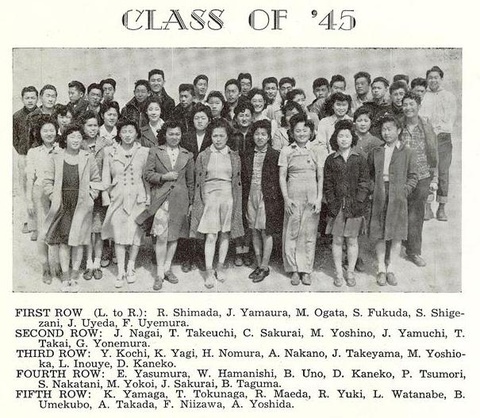 But then I came across this memorial service program and opened it up to find a handwritten note:

"You will recognize a lot of these names. That ( * ) is a brother of the little girl that worked for Mario so long."
We can probably assume that whoever wrote this sobering note knew of the rapport between Sumi and Mr. Lindley, and it reminds us that even with all the fond recollections of good times at "camp," there are also plenty of tragedies in war. Finally, one last note of confirmation that I found in the collection:
Certainly the death of a brother is something that would change a young woman's life forever. I revisited her original letter and looked for a date, which I eventually found on its envelope: April 17, 1945, less than one week before her brother would be killed in action. One could only imagine how Sumi's life would change in the coming days.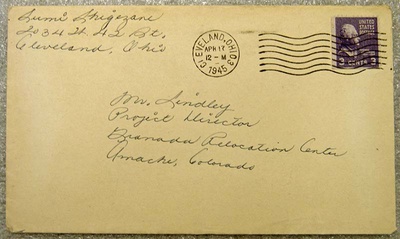 This short story, as it uncovered itself to me, was full of charming twists and a sad ending, not unlike what one may see in a drama. Obviously there are still far too many holes in the lives of these three individuals between 1944 and 1945, but with the lack of further materials all I could do now was make educated guesses to the many other questions that were raised. How was the relationship between the Shigezane and Lindley families? Why did Sumi choose to leave camp early? Why did Masao choose to join the 442nd? How did Sumi and the rest of her family react to Masao joining the 442nd? How did Sumi's life change after her brother's death?
The reality of museums such as JANM is that we are always at the mercy of what we have, and even with our huge collection, there are countless dead ends. Furthermore, while the Shigezane siblings' are the subjects of my inquiry, it was only through Mr. James G. Lindley's collection—as donated by his daughter Jane Van Blaricom—that I was able to learn about them.
In thinking about Sumi's and Masao's correspondence, I realized that for the past sixty-seven years, these have been in the possession of either Mr. Lindley, Ms. Van Blaricom, or JANM's archives. In fact, even in our own electronic records, Sumi's letter is only described as "letter – Lindley, James G | Concentration Camps, Amache | personal documents." I wondered if perhaps Sumi Shigezane or any of her relatives had ever searched for her name in our records, ultimately unable to discover this letter that we have held since 2001.
So I decided to take a shot at finding the proverbial needle in a haystack by searching Google for Sumi Shigezane. To my complete surprise, I came across a Discover Nikkei article written in 2007 by Brandon Shindo entitled "Two Japanese American Soldiers, Two Best Friends, and a Crossroad" that mentioned both Masao Shigezane and the author's grandmother Sumiko! Thanks to the wonders of the internet and the Discover Nikkei network, I have since established contact with Mr. Shindo and shared these items with his family. It may have taken eight decades, but finally the journey of these letters has gone full circle.
POSTSCRIPT:
It took a few weeks for Mr. Shindo to show these items to his grandmother Sumiko, and during the wait, I was especially anxious to hear countless new stories direct-from-the-source to fill in the gaps. Here is his response, reprinted with permission:
Hi Dean

I hope all has been well for yourself.

I had a chance to talk to my grandma about the letters you found at JANM. She and the rest of the family found the letters very interesting but also very funny, especially her phrases like "woo hoo" haha…due to the fact my grandma, nowadays, speaks and writes very "formal."

Furthermore, I asked her if she remembered writing the letter and her relationship with Mr. Lindley, but she said she did not remember writing the letter. She did, however, say that he looked very familiar (we showed her a picture of him from online). She stated that she must of known him as a result of her working in the administration office while in camp.

She was confused however, how her brother, Masao, knew Mr. Lindley.

Anyhow, she wanted me to thank you for sharing the letters with our family.

Have a good christmas and great new year

Talk to you soon

—Brandon (12/21/11)
Suffice to say, this was not exactly the response I was anticipating. Yet while it does not answer my primary question of understanding and further contextualizing the unique relationship between the Shigezanes and Mr. Lindley, it still is able to speak to us at a number of levels.
From being sent into a concentration camp in Colorado, to being forced to start a new life from scratch, to losing a dear brother; these experiences for Sumi Shigezane undoubtedly shaped her years since. This further illustrates the fact that despite the playful adolescent tone we saw in her original letter from April 1945, in no way should it overshadow the countless injustices and sufferings imposed upon so many Japanese Americans during World War II.
* * * * *
In Japanese, there is a well-known yojijukugo (four-character idiom) 温故知新 (onko-chishin). This idiom implies the ability to always learn new things from studying old history. Throughout the past few months, I have waded my way through thousands of original items in our permanent collection. Some are famous, others completely unknown. Some well recorded, others virtually undocumented. Yet one thing that has remained constant is that regardless of what the object is—and whether or not the museum deems it relevant for public display—each item still has plenty of hidden stories to share and untold lessons to teach.
In conclusion, I would like to challenge each of you to continue to discover new knowledge from examining our past. Perhaps you may think simple items such as your work log, newspaper clippings, stereo, pencil sketchbook, or holiday postcard are insignificant in today's globalized and digitized society. But as this series of articles has shown, historical artifacts can serve as a unique portal into the past. If we truly want to share the lessons we've learned with future generations, we must be active participants in the making, recording, and spreading of our history.