Ellen Somekawa is a third-generation Japanese American from Minneapolis. There she was an activist in the Asian American student movement, the anti-apartheid movement, the anti-nuclear movement and the movement against uranium mining and for indigenous land rights in the Black Hills.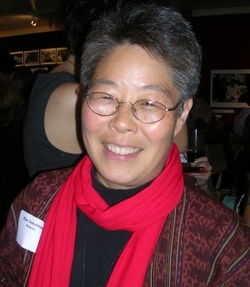 Ellen received her M.A. in history at Penn, where her research focused on Southeast Asian refugee resettlement in Philadelphia. She was active in the Asian American Student Alliance, a group that successfully fought for Penn to change the offensive name of the "Oriental" Studies Department and to initiate the beginnings of its Asian American Studies program.
She joined Asian Americans United (AAU) in 1988, which assisted her in her process of flunking out of the Ph.D. Program at Penn. In 1996, she became the executive director of AAU.
Over the past 20+ years, Ellen has played many roles at AAU, such as directing the summer youth program, serving on the board of directors and working on campaigns as an active member. Campaigns she has worked on include pushing the justice system to respond to the racially motivated murder of Heng Lim, mobilizing opposition to the closure of a library serving an Asian and African American neighborhood, halting the proposed stadium construction that threatened to close off the only side of Chinatown not already blocked off by corporate development and preventing a casino from opening a block away from Chinatown. She also helped anchor a coalition of youth and community groups which successfully achieved a landmark lawsuit by the U.S. Dept. of Justice against the School District of Philadelphia for "unlawful discrimination" and civil rights violations in racial attacks against Asian immigrant youth at South Philadelphia High School.
In 2005, AAU won its campaign to create the Folk Arts-Cultural Treasures Charter School in Chinatown. The organization has worked for more than two decades in the Philadelphia public schools to promote quality education opportunities for Asian Americans and immigrant students and their families. The charter school came out of the desire of many of our constituents for a school that that would respond to the needs of immigrant children and would serve as an alternative vision of education rooted in community, using folk arts as vehicles for academic learning and social change.
Asian Americans United exists so that people of Asian ancestry in Philadelphia exercise leadership to build our communities and unite to challenge oppression.
What is the mission statement of your life?
It's not so much a mission statement as an approach, but there's an old labor song that goes:

Step by step the longest march
Can be won, can be won.
Many stones can form an arch,
Singly none, singly none . . .

I see myself as part of a long radical tradition of people working for a fairer and healthier society. This song captures the truth that meaningful change happens bit by bit over time, with persistent effort and in concert with other people. It answers the question of how do you get up ready to work every day when the problems facing our communities seem so overwhelming and intractable.

And it isn't just that we slog along in the trenches together, but that as we work for change, we get to build relationships and community with caring, compassionate, fun and creative people who share our values and commitments. There's nothing more fulfilling than building the kind of practices and traditions and institutions that you want to see in the world – and doing it with people you love and respect.
How did you end up doing what you're doing?
I've been an activist since I was in high school, but I never imagined that I would be able to make a living at it. When I discovered Asian Americans United back in 1988, I felt like I had found my political "home." The people at AAU shared by political perspective and similar experiences of coming of age during the Asian American movement of the 1970s, but they were also doing exciting things that were new to me like organizing refugee tenants and developing youth leaders. I got involved however I could (working on campaigns, staffing the summer youth program, serving as a board member). I was lucky that in 1996, AAU was looking for an executive director at the same time I was looking for a job.
If Hollywood made a movie about your life, whom would you like to see play the lead role as you?
Joan Chen – not the elegant Joan Chen – but the one from The Blood of Heroes, where she's all scrappy and butch and spattered with mud.
How can people find out more about your organization or get involved?
Check our website. We also have another website called Culture Tools that is a collaboration with our longtime ally, the Philadelphia Folklore Project and the Folk Arts–Cultural Treasures Charter School, the school that we founded together. It's about our approach to folk arts, community-building, and social change. Then give us a call if you want to know more. We'd love to be in dialogue with folks across the country who are fighting predatory gambling (casinos), organizing to address bias violence, or training youth activists.
If you had a crystal ball, what do you see for the future of the Asian Pacific Islander American community?
It doesn't take a crystal ball to see that the APIA community will continue to get bigger and increasingly diverse. The question is whether our growth will be fragmented or whether we will manage to build a kind of principled solidarity based on what unites us. The term "Asian American" once had radical roots that reflected a sense of unity with Third World people and opposition to racism, sexism, homophobia, and all oppressions. Our task is to keep alive the radical roots of Asian America (at a time when the term is too often reduced to a simple and all-encompassing racial category) – and also to broaden the vision, adjust our analysis, and embrace the contributions of newer participants in our growing and changing communities. By this way of thinking, we come together as Asian Americans so that we can be a powerful force for change.
Bonus Question: What are your comfort foods and what memories do you have associated with them?
Growing up, I used to love it when my mom made "egg rice" – it was a bowl of hot rice with a raw egg and shoyu (soy sauce) on top. You would mix it all up, and it was warm and creamy and, well, comforting. After the salmonella scares about raw eggs, we didn't eat it any more. Now I make it with a fried egg but it's not the same.
Bonus Question: What's your guilty pleasure?
I am pretty driven by my love of chocolate. But oddly, I don't feel too guilty about it. In fact, sharing chocolate has become one of the core features of AAU culture.
* This article was originally published on 8Asians.com on March 24, 2011.