Read Part 1 >>

Saturday, March 12th

My friends and I woke up at 6:00 AM to see if any of the buses were running and going to the airport. I had made a bus reservation for 6:45 AM that would take them directly to Narita Airport. Their flight to Chicago was scheduled to depart at 11:20 AM. However, we couldn't get through to the bus company and the hotel staff said no buses were running and all the taxis were in high demand. There was no way to get to the airport, so my friends called the airline to see if they could switch their flight to a different day. The airline allowed them to cancel their flight and switch it to Tuesday morning.
There were about 60 people that slept in the lobby room as well as people in the corridor and on the couches. The radio was kept on throughout the entire night and all day Saturday. Among the guests there was a young couple that had planned to have their wedding reception at the hotel.
They were no longer able to have it because of the earthquake, so they donated their cake and sweets reserved for their wedding guests to the hotel guests. For lunch everyone enjoyed cake, sweets and some bread. Many people congratulated the couple and thanked them for the special treat.
In the afternoon my friend and I went outside to get some fresh air and survey the damage in the daylight. We walked over to the train station and saw a shattered window, big cracks in the sidewalks and streets. Near the station the stairs and escalators were roped off and no one could enter the station. We walked to the convenience store across from our hotel, but there was little left. Most of the shelves were bare, but we were able to buy some juice.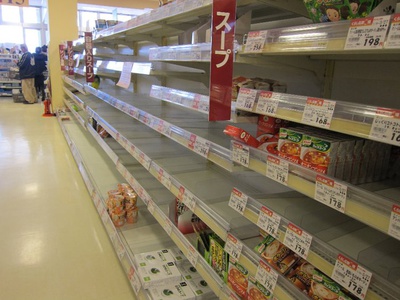 Later that afternoon, power came back on in the hotel and everyone cheered. I didn't have cell phone service for most of the day Saturday, so we stayed in the hotel waiting for updates and contemplating what to do next. The president of the hotel came and updated everyone on the situation with the rooms. He said many things had fallen andniture was damaged. Water was not flowing in the bathrooms and the stairwell was damaged. Elevators were still not working and it looked like we would be sleeping on the floor for another night. Afterwards, I went up to him to clarify some things and found out he spoke some English. He was very kind and told us to talk to him if we had any questions or needed help. Throughout our stay the hotel staff, including the president were truly amazing and did their best to provide for us. Several people left the hotel on Saturday, but more people came that night. For dinner the hotel staff served us a rice ball, seafood patty and a piece of bread with hot tea. We continued to use the bathrooms in the lobby, went another day without showering and attempted another night's sleep on the floor.
Sunday, March 13th
We woke up on Sunday and planned to go to church. I found out that my pastor and some other friends would be at the church and they planned to have worship service. Most people had left the hotel early Sunday morning and there were only three Japanese people in the room besides my friends and me.
Our hotel was located on the south side of the train station and church was on the north side. If it was a normal day we could have walked through the station to get to church. But, since the earthquake no one was allowed to enter the station. We started walking around the station, but kept running into the tracks and needed to find a bridge to cross over. We stopped near an overpass and I called one of my friends from church to ask his advice for directions. While I was on the phone with him another friend from church drove up on his scooter. God provided again with perfect timing and after I hung up the phone my friend on the scooter showed us where to cross the tracks and how to get the rest of the way to church. We thanked him and continued on our way. Normally, it takes about 15 minutes to walk from the train station to church, but on this day it took us close to 45 minutes!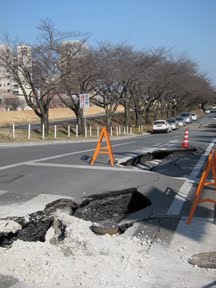 On the way to church, we saw cars lined up around the block waiting for gas. We saw more damaged stores, parking lots and sidewalks. I was shocked and couldn't believe how strong the earthquake had been. There weren't many people at church, but many of my friends who are English teachers in Mito were there. I was so relieved to see them and it was comforting being together. We sang some praise songs, prayed for the people affected by the quake,and my pastor gave an encouraging devotional message. We continued to feel aftershock during service.
After the service, I talked with others to hear their stories and situations. Most of my friends were at their schools when the earthquake hit, but no one was injured. I also met with two fellow team members going to Cambodia. Eight people from my church, including myself ,had been planning to go to Cambodia on a mission trip for ten days. I had missed the orientation meeting and they helped catch me up on the details of our trip. I tried my best to listen and remember everything they told me, but I had so much on my mind that I don't think I retained much. I was also worried because my passport was in my apartment in Takahagi and I wasn't sure when/how I'd be able to return there.
Some people found out about a fresh fruit and vegetable market near church and went to see if they could get some food. My friends and I walked to the 7-11 down the block to see what we could find there. It was the same as most of the other convenience stores we had gone into—mostly bare shelves. Not long after we arrived back at church, my friend walked in carrying a box full of vegetables and fruits. He invited my friends and me and another church friend over for a late lunch and said we could take showers at his apartment and use his internet!
Before going to my friend's place we walked to the train station to see if there were highway buses leaving from Mito. There were buses going to Tsukuba and that looked like our only option for getting into Tokyo and the airport. When we arrived at my friend's apartment he had finished cooking. It was such a feast and so nice to have a real meal. He had power, water and internet, so I was able to skype with my family for the first time since the earthquake. My friend looked up hotels in Tokyo and was able to make a reservation at one near the airport for Monday night. We planned to take the bus to Tsukuba early Monday morning and continue on to Tokyo. That way my friends would be able to make their flight Tuesday morning.
The rest of Sunday was spent hanging out with friends, watching movies and laughing. It felt so good to laugh, relax and do normal things. My friend dropped us off at the hotel later that night and the staff greeted us at the door. They asked if we had eaten dinner and I told them we had. I told one of the staff workers we were planning on leaving early in the morning for Tsukuba.
*This article was originally published in Voices of Chicago, online journal of the Chicago Japanese American Historical Society on April 29, 2011.