Introduction to the Yama Project

This project is a documentary of a Japanese farming and arts community in Brazil known as Comunidade Yuba. The farm is located in a rural agricultural region in the western part of Sao Paulo state. Ranging in age from fourth-generation newborns to first-generation Nikkei immigrants now in their 90s, the farm of seventy members is home to several related families. Known for its annual theatrical Christmas performance and modern dance troupe, Comunidade Yuba warmly welcomes visitors throughout the year. Founded in 1935 by a maverick émigré known as Isamu Yuba, who left Kobe Japan in the 1920s, the farm is sustained by three principles: to live off the land, maintain a daily reverence, and engage in artistic practice. Photographer Scott Smith of Charlottesville, Virginia and writer Janet Ikeda of Lexington, Virginia made their first exploratory trip together to the Yuba Farm in December 2002.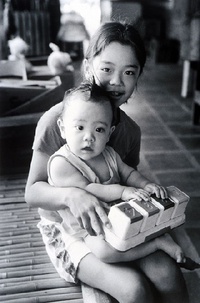 At Yama, which is what the people of Community Yuba call their home, there is a remarkable absence of division between work and pursuit of the arts. How this is achieved is a question that propels this project. Everyone of Yama could be called an "artist," "actor," "singer," or "musician." A spirit of amateurism seems to lie at the heart of their practice. A professional or lucrative arts career seems to be strongly discouraged. Although outsiders have labeled the community a type of "utopia," people of Yama would be the first to disagree with this misguided perception. Problems, both financial and social in nature, are inherent in the community. Living on the verge of bankruptcy has been part of the fabric of the community for the last fifty years.
As a vibrant Nikkei community, Yama preserves many customs from Japan. Before reaching school age, children grow up speaking Japanese as their primary language. On the farm, formal lessons in Japanese reinforce reading and writing. It is only when children of Yama enter Brazilian kindergarten do they learn Portuguese as a second language. Daily conversation and written public announcements are in Japanese. Japanese-language newspapers, books, and magazines, not to mention daily television broadcasts from Japan, are the most accessible media in the community. Several members of the community are married to Japan-born individuals who first encountered the farm during their travels and eventually made Yama their home.
Yama is not only about preserving Japanese customs and language. The community is very proud of their Brazilian heritage as well. They welcome visitors from around the world. Brazilian food, music and festivals have been incorporated into the life of the farm. Alongside of the array of Japanese foods on the kitchen buffet, such as freshly made tofu, Japanese-style pickles or farm-made furikake, will be the staple of every Brazilian meal, arroz-feijao, or rice and beans.
Photographer Scott Smith's fascination with this community began from an encounter with a Yuba descendant here in the U.S. The man spent most of his time making violins in a dimly lit basement workshop. Discovering that the motive was not in profit but in sending the handmade instruments home to the community's children, Smith began to seek answers to this individual's focused stillness and intensity. Eventually Smith followed his instincts and traveled to Brazil with Ikeda. Not knowing what to expect, Smith's initial impression was of a community "saturated in the arts." His professional training as artist, architect and photographer inspired him to embark on this initial voyage. What captivated him on that first trip to Comunidade Yuba was the ubiquitous nature of the arts, the interplay of work and performance and the exceptional way children are nurtured to create first and consume second. It was Smith's perception, gleaned from Yuba's amateur photographs, that this unusual pioneer was using the artistic impulse as a mere fertilizer to cultivate and harvest the fruits of the human spirit.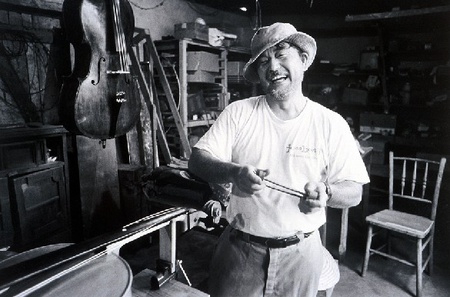 For the writer, Ikeda, this project is a study of how literary voice migrates and reinvents itself. The Yuba community in Brazil is a unique ethnoscape where Japanese and Brazilian cultures, work and arts, multiple generations, new and old convene in an almost seamless fashion. Ikeda became excited about tracing the poetic impulse of haiku from Japan to Brazil. Within the Yuba Community there is an unseen kinetic energy of poetry at work. It is felt by looking at the rough, worn hands. It is echoed in the conversations of people who have lived and died together for two generations.
This project initially began from Ikeda and Smith's mutual interest in alternative modes of education and lifestyle. Life at Yama seemed to reaffirm much of what they sought for their own vision of family life—a meaningful way to merge everyday life with the arts. For this project both photographer and writer started with a shared question that, after one trip together, generated various responses in photographs and haiku. One of the underlying artistic principles that will inform the presentation of this project in its final form is the aesthetic notion behind what is known in traditional Japanese art as haiga or haiku-paintings. In many of the Japanese arts, integration and union of text and image is displaced by a distinct preference for disjunction, fragmentation and layering of meaning. Like a well-crafted haiku, image and text will challenge and engage with the intention of reflecting this living manifestation of Yuba's ideals. Ikeda and Smith plan to produce a unique portrait of Yama through an anthology of image, voice and text. The outcome of the first trip culminated in an exhibition by Smith at the McGuffey Arts Center in Charlottesville, VA. Ikeda and Smith plan to hold a more extensive exhibition in the U.S. and abroad, and to produce a book of photographs, haiku and an essay about Yama.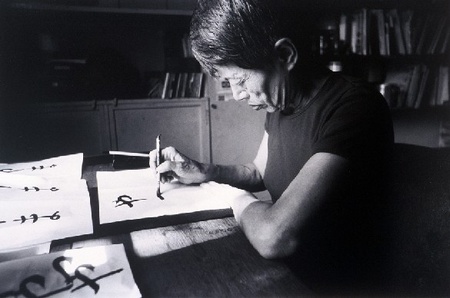 * To see the photo album of the Yama Project >>
* "YAMA: a Nikkei community in Brazil" article by Janet Ikeda>>
* Comunidade Yuba Homepage (Japanese): http://brasil-ya.com/yuba/index.html
*Scott Smith is a freelance photographer in Charlottesville, Virginia. Janet Ikeda teaches Japanese literature and language at Washington and Lee University in Lexington, Virginia.