Growing up, my father would talk about relatives we had in Hawaii and relatives we had in Brazil. As a child, the significance of that statement didn't register—just as my father saying our family was from Okinawa didn't quite hit home either. I figured Okinawa was just another place in Japan somewhere.
It wasn't until I went to study on a one year scholarship to Okinawa that I understood the nature of the Okinawan diaspora—how people from such small islands, through choice and circumstance ended up all over the world.
Among the Nikkei students on the same scholarship, native English speakers were in the minority. Besides the Americans and Canadians, I made friends from Peru, Argentina, Bolivia, Brazil and Mexico. I finally started piecing together what this meant. Few of us were Nisei like myself, but most were either Sansei and we even had one Yonsei. Hearing their tales about their family, life and cultural activities back home, the history of Okinawan immigration to these parts of the world began to make sense.
During my first year there, pieces began clicking into place as I recalled my elementary school days and three Peruvian-Nikkei brothers. With an epiphany, I realized that their surname was Okinawan! I wondered about the extraordinary family stories they must've had.
I ended up staying in Okinawa another five years after that, during which I met subsequent generations of scholarship students, and also getting to know the Nikkei expatriate communities that are fairly close-knit, living and thriving in Okinawa.
Working as an English teacher and freelance translator and voice over narrator, I was exposed to various projects that were aimed at reaching out to not just English-speaking but Spanish and Portuguese audiences, too. From films to municipal publications and even welcome speeches, I saw efforts that the Okinawan Prefectural Government (OPG) would make to outreach to the existing Nikkei communities as well as visiting groups.
I began to see how the Worldwide Uchinanchu Festival (*uchinanchu=Okinawan in local dialect) fit into this conscious effort of the OPG. This festival (or the Taikai, as it is often referred to in shorthand in Okinawa as well as the overseas communities) is like a big family reunion. You don't necessarily know everyone that will be attending, but you know there's a common bond and there's an air of mutual curiosity.
I've attended two Taikai, first in 2001 while living in Okinawa, and then in 2006 after returning to the States. My first Taikai experience was from a local perspective and the second was as an overseas visitor. These contrasting experiences were quite enlightening.
In 2001, during the 3rd Worldwide Uchinanchu Festival, I was living in Okinawa, pursuing training in Ryukyu classical dance and also classical music via the sanshin (Okinawan shamisen). My sanshin dojo just happened to be asked to take part in the Opening Ceremony. Approximately 50 sanshin players would stand behind Alberto Shiroma who was singing the theme song to the Taikai, "Kata Te Ni Sanshin Wo" ("Con El Sanshin en la Mano"). I had heard about these Taikai prior to going to Okinawa, but I was not prepared for the emotional impact. I had not seen any prior images of what this "homecoming" gathering would be like. I was blown away.
Waiting backstage at the Convention Center in Ginowan, the rumbling of the preceding performances reverberated in my chest. My dojo mates and I wondered how many people there were. The sound system was booming and the applause was thunderous, too. Our cue to take position on risers in the dark came. When the music began, the lights came up and I nearly faltered. Before us was an endless ocean of faces in the humongous hall. Every face that I could make out was beaming back. It was such an awesome feeling. As the song went on, I almost started crying, the realization was so overwhelming. All of these people came from all around the world – because they were of Uchinanchu descent!
But I learned quickly in the short few days of the Taikai that local people were not part of many of these ceremonies and performances. The only reason I got to be part of it was as a performer and also, I sneakily tagged along with some of the Los Angeles contingency from home. Back at work, the young adult students in my English classes seemed a little too oblivious for my taste. Most were studying English so that they could study abroad—in essence, leave Okinawa. I took that opportunity to point out that our common Uchinanchu identity, pride in that identity and a sense of importance in understanding their roots were the motivation in bringing them all back to Okinawa. I sensed that the real disconnect may have been simply because there weren't enough venues for real interaction between the overseas and local Uchinanchu. Not that I didn't see exceptions. One could tell who the Taikai visitors were because of a special pass that gave them free access to public transportation. On Kokusai-dori a mile-long street where tourists and locals frequent, I felt there was an atmosphere of openness. I saw old and young locals shyly attempt to strike up conversations with people waiting at bus stops or shop counters.
My second Taikai was with a sense of wanting to really make connections with the overseas people. Having formed friendships with my Uchinanchu sisters and brothers during my time in Okinawa, I wanted to strengthen those ties. And I was hoping for more formal ways to interact with the local community.
With the inception of the Taikai, there have been special recognitions and "designations" for those active with their local Okinawan community. For each Taikai the OPG selects certain individuals to recognize or encourage service, such as with the Uchina Goodwill Ambassadors, and a meritorious award ("Koureisha"). In 2006 for the 4th Worldwide Uchinanchu Festival, one Taikai focus was encouraging younger participation and that was seen through a new category of "Jisedai Daihyou" (Future Generation Representatives). There was also a call for proposals of projects that would aid in the promotion of Okinawan culture or strengthen the overseas network being dubbed the "Uchina network".
For the eleven of us that traveled to Okinawa as Future Generation Representatives (the OPG reimbursed our airfare), we were a little surprised that there wasn't a more formal arena in which to get to know each other. I met Mary Higa from Peru who was a leader of the Ryukyukoku Matsuri Daiko in her country. We met early on and because her English was strong enough–stronger than her Japanese (and I have no Spanish skills)--we decided to find all of the eleven reps and see if we could meet on our own.
There were three of us from U.S., Keith Nakaganeku from Hawaii, Jack Hannah from Washington State and myself. Mary and the three of us managed to find a few others over the short period. Eight of the eleven had somehow found each other at some point during various programs. We even set up a meeting before the final closing ceremony and due to some mix-up, Eduardo Higa from Brazil and I seemed to be the only ones that showed up. I found out from Mary that she and another person were in another part of the grounds, so we never did have our meeting, although we exchanged e-mail addresses. We have not yet gotten to the point of figuring out some collective goal or project. I'm still hopeful, however. We do live in an age of the e-mail and Internet.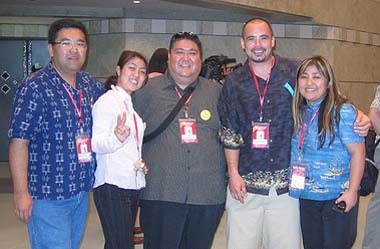 With my second goal of interacting with the local Okinawan community, I took part in the "One School, One Nation" program, in which I was assigned a local elementary school in advance of the Taikai. I corresponded with one of the teachers via e-mail from Makiminato Elementary School in the city of Urasoe and we did a "pig" exchange. (The pig was symbolic of the post-WWII relief effort in which Hawaii sent pigs to Okinawa to assist with the food shortage). With the stuffed animal pig, I took photos around our Okinawan Kenjinkai office and at various "American" locations and put together an album for the students. On the day of my scheduled visit to their school, I was floored by the warm reception. They had a full school assembly complete with Eisa drumming. I spent the rest of the day helping to teach English or attempting Japanese calligraphy. It was truly a blast.
In hindsight, while the Taikai has certainly evolved over the years and many of the overseas participants have an unforgettable time, I can't help but feel that there are missed opportunities for more connection—group collaboration as well as personal friendships. I wonder if the Taikai organizers would ever consider having certain overseas reps like the Goodwill Ambassadors to be an active part of the planning? It's a thought.
OPG-willing, there will be Taikai #5 in 2011. Will I go back? If I can help it, yes. While not perfect, I see something akin to the formation of a formula—a budding model of global cooperation—and dare I say it—a study in achieving Peace. With Okinawa's painful history of being the backdrop to the only WWII ground battle in Japan, the older generation in Okinawa are often the strongest proponents of peace, despite living amongst the U.S. military bases—a legacy of that painful past. The Taikai brings together its own United Nations of sorts. Although a majority of the overseas participants may be busy reconnecting with their long-lost relatives and just getting to know the beautiful islands for the first time, I still think those of us that are "repeaters" could concentrate a little more on strengthening the unique Uchinanchu global network.
Finally, on a "coming-full-circle-side-note", remember those Peruvian-Okinawan brothers I went to school with? I eventually did get a chance to learn their family story. It just so happened that both of their parents are active members of our LA-based Okinawa Kenjinkai where I am currently employed! Agijyabiryo-!*
*Okinawan expletive like "oh my!"
** Yuko Yamauchi was a guest speaker at a community forum on Okinawan networks organized by Discover Nikkei in March 2008. View pictures from "Okinawans and their Global Networks" in the Nikkei Album.