Toshiro Konishi is a character. Although his art has traveled all over the world, he has maintained the simplicity and courteousness with which he arrived in Peru more than 30 years ago. This is the story of the encounter between our editor and the renowned and fondly remembered "Achicaprecio" [literally, "Pricelowerer"].
As soon as I finish eating, the chef Toshiro Konishi sits at my table (technically "his" table, for I'm at his restaurant located in the San Isidro district, Toshiro's). He apologizes for making me wait. He had the courtesy to invite me for a meal while I waited, which was sheer pleasure.
Toshiro says that he arrived in Peru in '74 to help a colleague (the now-famous Nobu, who has a well-known restaurant chain in the United States and other countries) with a Japanese restaurant project, the Matsuei . In those days, that sort of restaurant was almost nonexistent in Peru. In his view, the first thing needed was to form a staff that would work at the restaurant. Toshiro helped in that task. He knew it wasn't going to be easy for in Japan one becomes a chef very slowly, as per a traditional system in which during the first years one learns to cook only by watching the more experienced chefs.
Initially, he planned to stay in the country for three years. However, before those three years had passed his colleague abandoned the project. Toshiro knew that if he also went away his staff's efforts to learn Japanese cuisine would have been in vain. That – and the great variety and quality of the ingredients found in the country – made him decide to remain in Peru.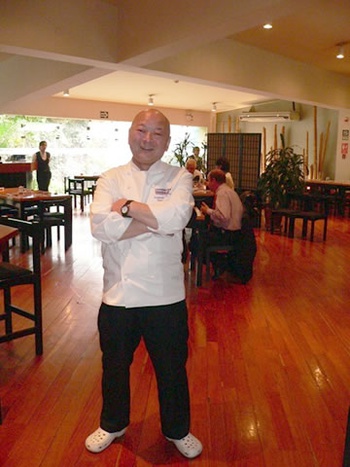 Good ingredients, good food
Toshiro has a traditional Japanese culinary background, for he belongs to the fourth generation of a dynasty dedicated to the Kaiseki cuisine, the Japanese equivalent of the French haute cuisine. It's precisely this background that has taught him to appreciate the diversity of ingredients found in Peru, since the basis of the Kaiseki cuisine is the good quality of the ingredients.
In order to become fully acquainted with the ingredients of Peruvian origin during the period following his arrival in the country, Toshiro sailed for two and a half months with expert fishermen along the national coast. Shortly thereafter, he traveled through the mountains, visiting the main villages in the Andes. He also attempted to grow 28 vegetable seeds he had brought from Japan. Much to his satisfaction, 23 of them germinated.
This experience, in addition to more than three decades using Peruvian ingredients, has turned him into an expert in the field. "It's not correct to ask which types of fish are flavorful," explains Toshiro in Japanese. "Instead, you should ask which types of fish are flavorful in which seasons." He gives a few examples: the bonito fish is tasty in June and July; the bass is tasty from October to August. When it comes to vegetables, it's another story. "In Peru it doesn't matter when you use vegetables, but where they've been grown," Toshiro says, referring to the wide variety of climates and altitudes found in the country.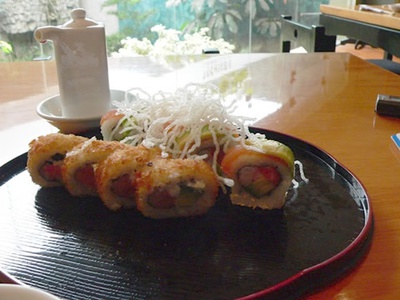 The best of both worlds
"The Japanese chefs feel a lot of pride in Japanese cuisine, and I felt the same way," Toshiro confesses. "But as I began to learn more about Peruvian cuisine I realized that it's also extraordinary," he adds. That's why he believed it would be an excellent idea to mix the two.
Unlike the Nikkei-Peruvian cuisine, which is basically homemade, Toshiro has blended the two cuisines in a professional manner. The proof, in addition to the meticulous selection of suitable ingredients, is in the complex preparation process that each plate requires. The process goes through a number of stages for the same ingredients, among them boiling, refrigeration, cleaning, and slow cooking.
Among the dishes I had were snails in soy sauce, raw mussels covered with a Peruvian lemon sauce, fish baked in soy and ginger sauce, trout makis (rolls), and more. The mixture of Japanese and Peruvian ingredients and techniques was a delight for the palate.
Toshiro in brief
Above all, Toshiro is a professional. He says that only as recently as 2005 did he showcase his cuisine internationally. Until then, his efforts were focused on the formation of the staff of his restaurant, which opened its doors at the Sheraton Hotel in '89. He explains his work ethic: "No matter when they (the clients) come into the restaurant, they must be served a delicious meal. For (the cooks) to prepare it just like that, even with their eyes closed, took until 2005."
During the interview, Toshiro continues to take care of his customers. With many he stops to talk, making selections from the menu according to the preferences of each one (this system is called omakase , one of Toshiro's specialties). With some, he seems to be discussing business. Meanwhile, his cell phone keeps on ringing.
After seeing him at work, it doesn't surprise me that in only three years he has received awards, honors, and more than ten invitations to international gastronomical conferences. Additionally, he has been hired as a consultant at two restaurants in exclusive resorts in the Maldivas, where he will also offer his Japanese-Peruvian cuisine.
"I have nearly 30 years of stored energy; I still have a lot to show," he tells me while performing his tasks. I don't interrupt him; instead, I leave his restaurant hoping that in the near future I'll become acquainted with the new creations of this professional.
Personal album
Toshiro Konishi was born in Japan on July 11, 1953. He belongs to a dynasty dedicated to Japanese cuisine. When he was six, his grandfather (with whom he can be seen in one of the photos) told him he could play in the restaurant's kitchen. When he was eleven, he went from playing games to helping other cooks who worked there.
When he was 16, he was already working as a cook in Tokyo, at the restaurant Nashahei, and in 1971 he was chef at the restaurant Fumi.
He arrived in Peru in 1974, and worked as a Japanese cuisine chef for 10 years at the restaurant Matsuei. Shortly thereafter, he would open the restaurants Wako and Toshiro's at the Sheraton Hotel. Since 2002, he has been the manager of the Sushi Bar Toshiro's in San Isidro.
Toshiro was a professor at the St. Ignatius of Loyola University, is the author of several books, and has been a frequent guest on television shows. Moreover, he has taken part in various gastronomical festivals in Spain, Italy, Venezuela, and other countries.
His on-screen appearance in a commercial for a brand of television sets has made him known to this day as the "Achicaprecio." Who would have guessed that he also performed as a singer, of all places, at the Ancón Festival, where he beat Ricardo Montaner. Today, photography is another activity that occupies his time.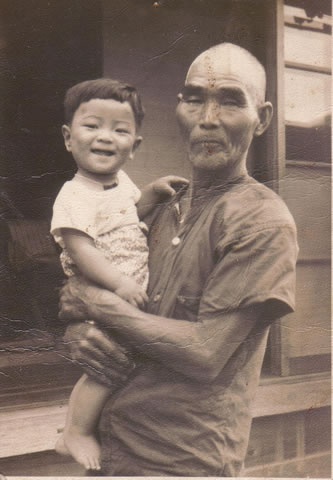 Honor from the Japanese government
In June 2008, Toshiro Konishi received a diploma granted by Japan's Ministry of Agriculture and Fishing for his contributions to the dissemination of Japanese cuisine throughout the world. His award is the first given to a Japanese chef settled in Latin America.
* "Achicaprecio" is the catchword that Toshiro Konishi used in a commercial for a brand of television sets in the '80s.
**This article has been published through an agreement between the Japanese Peruvian Association (APJ) and the Discover Nikkei Project. This article was originally published in the magazine Kaikan, issue #37, September 2008.