For over 20 years, the Japanese American Cultural & Community Center (JACCC) has presented its annual Children's Day Festival in celebration of the traditional Japanese holiday Kodomo no Hi. This is a free and fun-filled day for the entire family, which begins first thing in the morning on San Pedro Street with the Chibi-K run and continues with the Asian Pacific Arts & Crafts Faire on the JACCC Plaza.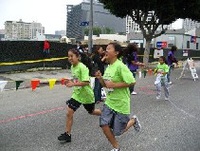 The Chibi-K: Kids for Kids Fun Run made its return to the streets of Little Tokyo last Saturday, May 12, 2007 at Family FunFest—JACCC's 24th Annual Children's Day Celebration. It was exciting to see so many children and their families gather on San Pedro Street to participate in this community tradition. Chibi-K is a non-competitive fun run for children ages 4 to 12. San Pedro Street is closed between 1st and 3rd Streets, as well as Second Street between Central Avenue and Los Angeles Street so that the children can run through the streets of Little Tokyo. They run heats by age of distances from ¼ kilometer for the young ones to a full kilometer for the big kids. There are no losers or winners, but each child receives a Chibi-K t-shirt, a goodie bag filled with fun items, and a pancake breakfast provided by the Japanese American Optimist Club.
At its peak more than 20 years ago, over 500 children ran in Chibi-K and thousands of friends and family members lined the streets to cheer them on. However, in 2006, the JACCC staff decided to suspend the Chibi-K run from the Children's Day festivities after years of dwindling participation and difficulties with outreaching to younger families. The community was disappointed and Family FunFest was not the same without the energy of Chibi-K to kick off the day. The groups of volunteers who had helped at the run over the years echoed this sentiment.
I didn't get to run in Chibi-K as a child, but I volunteered at Chibi-K for a few years as a member of the UC San Diego Nikkei Student Union (NSU) with the Intercollegiate Nikkei Council (INC). It was a special opportunity for us to participate in the Nikkei community and make connections to Little Tokyo. I have very fond memories of the INC overnight at Nishi Hogwanji Temple, waking up early, donning the infamous purple vest, and cheering on the kids. After graduating from UC San Diego last June, these memories led back to the JACCC, where I now work as a Program Associate and Family FunFest Coordinator.
Members of the UCLA NSU felt a similar attachment to Chibi-K. They expressed their disappointment in its cancellation and proposed bringing it back. They offered to have their new internship program focus on helping the JACCC organize the return of Chibi-K. Won over, our Executive Director, Chris Aihara, decided to bring back Chibi-K and turn the run and the entire Children's Day Celebration over to the next generation.
This is how I came to be the coordinator for this year's event. Once a student volunteer, this year I found myself behind the scenes, chaperoning the overnight at Nishi Hogwanji Temple and delegating tasks to the NSU groups I had once been a part of. I came to understand quickly that Children's Day is a group effort. With a veteran Chibi-K Committee, a dedicated staff, Mika Ito, the coordinator of the Asian Pacific Arts & Crafts Faire and a past Chibi-K runner, and an energetic bunch of UCLA NSU interns, the 2007 Children's Day Celebration was a great success.
Next year is the JACCC's 25th Annual Children's Day Celebration. The celebration of the 25th Anniversary of this community tradition will bring much excitement to the JACCC. Hope to see you and your family there!
The following is a letter from a former Chibi-K runner.
I was really disappointed when I heard that Chibi-K had been cancelled last year. I decided to go to Children's Day with my family anyway, but it just didn't feel the same without the Chibi-K run. The thought of future generations of Japanese American kids growing up in Los Angeles without experiencing Chibi-K was really sad.
Since 1983, Children's Day has been an annual tradition for families across the Greater Los Angeles area. Every May, families from the South Bay to San Fernando gather on the JACCC Plaza and the streets of Little Tokyo to participate in this community tradition. Even though we were living in Japan at that time, my family was one of those families. Every spring when we came to Los Angeles to visit my mother's family, Children's Day and my favorite activity, Chibi-K, was set on our itinerary.
The Chibi-K: Kids Fun Run had been the kickoff event for a fun filled weekend since the very early years of Children's Day. I woke up early, pinned on my bib, and ran down San Pedro Street every year I could, which was until I turned 13. That year, sad that I was too old to run, I stood on the sidelines and cheered on my little brother. By then I had accumulated an impressive collection of Chibi-K t-shirts. But more importantly, I have a decades worth of memories of the JACCC and Little Tokyo.
When my friends in the UCLA Nikkei Student Union told me that they were partnering with the JACCC to bring back Chibi-K, I jumped at the chance to help on the committee. Together with the JACCC coordinators, who are recent college graduates, we are the second generation of the Children's Day Committee, but we are determined to reinvigorate Chibi-K to the peak it had reached under the first generation's leadership.
Children's Day and Chibi-K would not be possible without your support. Through the generous contributions of the Children's Day sponsors and Club Chibi members, we hope to carry on this community tradition for the next generation of chibi. We are counting on your support!
Sincerely,
Michelle Hirose
*Michelle Hirose ran in Chibi-K from 1989 to 1997 and is now serving on the 2007 Children's Day Committee.