Growing up, we would come into Los Angeles' Little Tokyo district to visit my Murakami Ba-chan who lived in Little Tokyo Towers. We'd take the elevator up to her small apartment with the display case full of kokeshi dolls, then take her out to dinner at Aoi restaurant on First Street. As young kids, my sister and I would always make a stop at the Sanrio store to spend the few dollars we had saved. We loved the stickers, stationery, and other little goodies adorned with Hello Kitty, My Melody, and Little Twin Stars. At the time, their merchandise wasn't as widely available as it is now, so it was always a special treat.
For a while, one of my older cousins used to live in an apartment in J-Town. Occasionally, my sister and I would sleep over. Another cousin that my sister and I were very close to attended Maryknoll Elementary School. We would look forward to their annual summer carnival. My cousin and her parents would have to help out at the fundraising event working at the booths. My sister and I would stay over at their house for a few days and go with them each day to eat the JA-style carnival food, toss ping pong balls into little containers to win goldfish, and play bingo. It was so different from our own schools. Maryknoll's students were almost completely Japanese American. In our school, I think we were the only JAs.
Occasionally, our parents would bring us to see the Nisei Week Parade. We really only went when my cousins from Seattle came down and marched as part of the Tenrikyo's Drum & Fife Band. We would go to cheer them on as they marched down First Street among the ondo dancers, community leaders riding by in convertible cars, and the float with the Nisei Week Queen and her Court. I have a memory of my father standing against the red brick of the former Nishi Hongwanji Buddhist Temple holding me up so I could see above the crowd of people. I love parades, and the Nisei Week Parade, despite being kind of long and sometimes with big gaps between the entries, is still one of my favorites. There's a sense of pride and connection that I feel to it.
During the early 1980s, my sister and I got into J-Pop music. We would make trips to Bunka-do to buy singles and LPs on vinyl and cassette tapes. At that time, there were about three Japanese bookstores in J-Town. We would go to them all to look for teen magazines with photos of our favorite singers. Video rental stores were another stop so we could watch the latest music show episodes. We didn't completely understand the lyrics, but it inspired us to improve our language skills.
I eventually lost interest in J-Pop. The exchange rate at the time made it an expensive habit to keep, and other than my sister, my closest cousin (the one that attended Maryknoll), and her best friend, I didn't know anyone else who shared this musical taste. By that time, my grandmother had moved to Keiro retirement home, so was no longer residing in the area. Our visits to J-Town became much less frequent.
For a while, I didn't have much interaction with the area. I finished high school and went off to college. That changed twelve years ago when I started working at the Japanese American National Museum. Now, about a third of my life has been spent working at this organization. Despite the countless hours and frustrations of limited resources that are inherent in working at a non-profit, I feel fortunate to be paid doing something I passionately believe in and genuinely enjoy. It's inspiring working with such dedicated staff and volunteers, and I've learned so much about Japanese American history, community, and culture. The Museum has become, in a way, part of my extended family. (Actually, part of the Museum is my family. My husband, parents, and an uncle are volunteers.)
One of the best things about working at the Museum is the location. I grew up being only peripherally part of the JA community. Most of my connections to Japanese culture and JA community were through family. I love working in J-Town because the close proximity to the restaurants and shops, and just walking down First Street or through the Japanese Village Plaza and recognizing familiar faces brings such a sense of connectedness, family, and home.
It will be very emotionally difficult for me whenever I leave the Museum and J-Town. Whether it's next year or in thirty years, it will be like leaving home...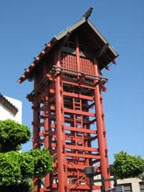 "
My early J-Town memories" Nikkei Album collection
"
Writing this article inspired me to put together a Nikkei Album collection about some of my early interactions with J-Town. Please check it out and let me know what you think!