If you grew up JA like me, you probably remember going to J-Town as a child. With your parents or Baachan by your side, you went there to buy some Japanese food, maybe had some chow mein and pakkai at the local "Chinameshi," took in a Samurai movie at the local theater or temple, or played "dime pitch" or "goldfish toss" at the annual Church bazaar.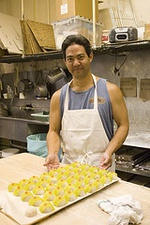 And for some, a trip to J-Town meant going to the local Japanese confectionery, where you got to eat your favorite piece of manju. Some of us remember the pink and white mochi (without beans); Others like kuri manju, or the white one with the smooth bean paste, or the green one with kinako on top. And don't forget that box of Botan Rice candy!
Do you remember?
Back in the old days, the Issei and Nisei called this special place "Nihonjinmachi" (Japanese People Town). Today in San Francisco, they call it "Nihonmachi." In Los Angeles, "Little Tokyo" is its name, and in San Jose, it's known simply as "Japantown."
Whatever you call it, J-Towns for Japanese Americans was and still is the place to be, physically, and the place to be, spiritually and emotionally. Whether it was at work, at play, at church or temple or hanging out with friends over a Japanese meal, J-Town—your J-Town—is like home.
My J-Town home is in San Francisco, and around 1970-71 my mom enrolled my brothers and me in the Japanese Community Youth Council's (JCYC) Summer day camp program. I remember that as one of my first exposures to SF's J-Town. I also remember going to movies at the Kokusai Theater, the distinct smell upon walking into the old American Fish Market, watching a community mochitsuki near the Peace Plaza, and attending the annual Sakura Matsuri parade.
In high school and college, I was always around J-Town. I worked over at American Fish, was a member of the SF Buddhist Church YBA, and at one time even washed dishes over at Kimochi Senior Services. I attended Lowell High and San Francisco State University, but after school and on weekends the place to be for me was Nihonmachi.
Now, some 37 years since I first stepped foot into J-Town, I have been given the opportunity to tell the story of Nihonmachi through a Los Angeles based theater group called The Grateful Crane Ensemble.
Funded by a grant from the California Civil Liberties Public Education Program (CCLPEP) and administered through the Japanese Cultural & Community Center of Northern California (JCCCNC), the challenge I was given last year was to tell 100 years of Japantown history in less than two hours, through story and with music and songs.
"Should it be about San Francisco's J-Town and its 100th anniversary?" I asked. Initially, the answer was yes, which made perfect sense since 2006 was their centennial, and our show was to be part of that celebration.
"Good," I thought. "At least I have a specific place to focus on." But then I received a call telling me the focus had changed to a generic story about a generic California J-Town. "That's different," I said. And I'm thinking, "Wow, this went from one very specific J-Town to over 40 throughout California—how am I going to do that?"
So I started reading books and articles about Japantowns. I "Googled" Japantown and found all sorts of information on the Internet. And I visited the three remaining J-Towns in San Francisco, San Jose and Los Angeles, and other former J-Towns such as Terminal Island in San Pedro, and Seattle, Washington's former J-Town. I talked to some old-timers who grew up in pre-war J-Town, and got their stories, and after awhile a picture of the place was beginning to form.
What I found was that the J-Towns established and built by the early Issei had many things in common. Before the war, they were self-contained, thriving, booming little villages—safe havens—for the Issei and their Nisei children. Walk down the street and small stores and shops abounded. You could find laundries and cleaners, hotels and boarding houses, grocery, fruit and fish stores, Japanese confectioneries and bakeries, drug stores, clothing and tailor shops, barber and beauty shops, churches and temples—all the things that filled the basic needs of JA families.
But after World War II, when only around 50% of the people returned after camp, J-Towns would never be the same again. Then you had the final finishing blow: Redevelopment of the 1950s, 60s and 70s which literally wiped out what was left of J-Towns up and down the State, leaving us with only three.
After learning all this, one of the things that really intrigued me was how the Japanese American manju-ya seemed to be one of the only lasting businesses in J-Town: In San Francisco, there's Benkyo-do, which celebrated 100 years last year; in Los Angeles, there's Fugetsu-do, now in its 104th year. In Sacramento, Tamagawa-do made it to 72 years. And Shuei-do in San Jose has been around for 53 years.
I also really like manju, mochi, an pan, and have many fond memories of eating it as a child and adult. So the idea of a manju-ya became an appealing starting point. That's when I got the idea: Tell the story of J-Town through three generations and 100 years of a manju business.
Our show is called "Nihonmachi: The Place to Be" and our story is set in a fictional J-Town in 2005. Our town manju-ya, called Sakura-do, is closing up shop after 99 years in business. The Sansei owners, Alan and Joyce Iwata, have been running the business for 19 years, but recently, the business has become too physically demanding on them.
Alan is 57, has a bad back, and a bum knee. Joyce is 56, and has carpal tunnel from tying paper over the manju boxes. They want to retire and enjoy life while they still can. But then the spirit of Alan's grandfather, Sankichi Iwata, founder of Sakura-do, returns to J-Town. He demands to know why Alan is closing the business, and takes Alan back with him to the other world—Nihonmachi, 1928.
Alan's a Sansei after all, and doesn't know a whole lot about his personal history. So Jiichan takes him on a journey back to J-Town to "school" him about the family business, and in the process, teaches him to appreciate who he is and where he comes from.
Along the way, he meets his feisty Issei grandmother who speaks only Japanese except swear words in English, and his father as a young adult. We also see the family through the Depression, the war years in camp (where his grandfather made manju), and the resettlement/redevelopment years of the 50s and 60s.
We also meet his mom, see his parent's first date, and he's even invited to the J-Town hotel room where he was conceived on their honeymoon—an invitation he declines, saying this was already "too much information." Eventually, Alan relives the 60s and sees his Baachan's best friend refusing to be evicted from the town hotel. He takes us back to the Asian American movement of the 70s, and the fight and victory for redress and reparations in the 80s. We also see Alan taking over the family business, and the conflicts and control issues he had with his dad in trying to run the store.
After learning all of this, Alan is transported back to present day, where he is now inspired and decides to continue the store until its 100th anniversary. The final scene is the family celebrating its centennial at a hotel ballroom, where Alan thanks everyone for their support and announces that now that they've reached their 100th year, he isn't sure how much longer he and his wife can continue. But then someone steps up to make an announcement—and to hear that you'll have to come and see the show!
Interspersed throughout the show are classic, nostalgic Japanese and American songs, a tribute to the late, great singer Misora Hibari and a fond look back at our Issei pioneers, who are all but gone now, and are brought back to life through our show.
And in the end, Alan's journey becomes our journey; his story is our story, and the main message is: Don't let J-Town die, because for over 100 years, Nihonmachi has been "Our Place to Be."
If you live in the Los Angeles/Southern California area, please tell your friends. Bring your family. On March 24th and 25th, we're going home to J-Town. I hope you can join us.
* * *
Note: "Nihonmachi: The Place to Be," will be presented as a fundraiser for the Japanese American Cultural and Community Center (JACCC) on Saturday, March 24, 2007 at 7:30 p.m. and Sunday, March 25, 2007 at 2 p.m. at the Aratani/Japan America, 244 S. San Pedro Street, in Little Tokyo, downtown Los Angeles. (Sunday orchestra seats are sold out.) Tickets are $35 orchestra, $30 balcony; $30 for JACCC members, Groups 10+ and Seniors; $27 balcony for JACCC members, Groups 10+ and seniors. $20 Students and children under 15. For tickets and information, call the theatre box office at 213/680-3700 between Noon to 5 p.m. Monday through Saturday.
* * *