TRANSBORDER LOS ANGELES: AN UNKNOWN TRANSPACIFIC HISTORY OF JAPANESE-MEXICAN RELATIONS BOOK EVENT
Gardena Valley Japanese Cultural Institute
1964 W. 162nd Street
Gardena, California, 90247
United States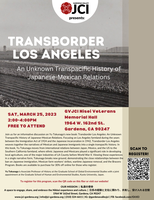 Join us for an informative discussion on Yu Tokunaga's new book: Transborder Los Angeles: An Unknown Transpacific History of Japanese-Mexican Relations. Focusing on Los Angeles farmland during the years between the Immigration Act of 1924 and the Japanese incarceration in 1942, Transborder Los Angeles weaves together the narratives of Mexican and Japanese immigrants into a single transpacific history. In this book, Yu Tokunaga moves from international relations between Japan, Mexico, and the US to the Southern California farmland, where ethnic Japanese and Mexicans played a significant role in developing local agriculture, one of the major industries of LA County before World War II. Viewing these experiences in a single narrative form, Tokunaga breaks new ground, demonstrating the close relationships between the ban on Japanese immigration, Mexican farm workers' strikes, wartime Japanese removal, and the Bracero Program. Books are available to purchase for 30% off online for those who register. This program is free to attend but registration is required. 
Yu Tokunaga is Associate Professor of History at the Graduate School of Global Environmental Studies with a joint appointment at the Graduate School of Human and Environmental Studies, Kyoto University, Japan.
https://www.jci-gardena.org/gvjci-upcoming-events.html


GVJCI . Last modified Jan 31, 2023 10:51 a.m.
---