EMERGENCY PREPAREDNESS FOR SENIORS SEMINAR
Gardena Valley Japanese Cultural Institute
1964 W. 162nd Street
Gardena, California, 90247
United States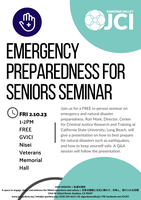 Join us for a FREE in-person seminar on emergency preparedness  for seniors. Ron Mark, Director, Center for Criminal Justice Research and Training at California State University, Long Beach, will give a presentation on how to best prepare for natural disasters such as earthquakes, and how to keep yourself safe. A Q&A session will follow the presentation. To register, please visit the GVJCI website or call (310) 324-6611.
https://www.jci-gardena.org/gvjci-upcoming-events.html

GVJCI . Last modified Jan 31, 2023 10:39 a.m.
---