Bunka no Hi
Japanese Cultural & Community Center of Washington
1414 South Weller Street
Seattle, Washington, 98144
United States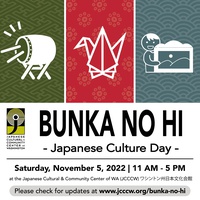 Bunka no Hi (Japanese Culture Day) is a holiday in Japan celebrating Japanese culture. Bunka no Hi at the JCCCW, or Japanese Culture Day, is a free cultural festival dedicated to celebrating, commemorating, and educating the public about Japanese and Japanese American culture in the Seattle area. Children, families, and the general public are encouraged to attend this free event!
This year, the Bunka no Hi festival will center around the theme of "paper." We will feature papercraft activities and exhibits on Japan's unique way of using paper such as origami, kirigami (folding, then cutting paper) and kiri-e (paper-cutting). There will also be unique demonstrations and performances, including martial arts such as iai battojutsu (a type of traditional martial art using swords) kamishibai (storytelling), karate, classical dance, tea ceremony, taiko (Japanese drumming) and more!
Please check back our event website for the event details and safety guidelines upon your visit.
https://www.jcccw.org/bunka-no-hi

jcccwa . Last modified Sep 29, 2022 11:12 a.m.
---