Remembering 80th Anniversary of JC Internment in Kaslo, BC
Langham Galleries
Kaslo, British Columbia
Canada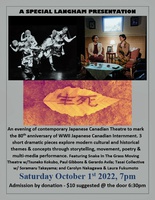 An evening of contemporary Japanese Canadian theatre to mark the 80th anniversary of WWII Japanese Canadian Internment. Three short dramatic pieces explore modern cultural and historical themes through storytelling, movement, poetry and multimedia performances. Featuring Snake-in-the Grass Moving Theatre with Tsuneko Kokubo, Paul Gibbons, and Gerardo Avila; Tasai Collective with Soramaru Takayama and Carolyn Nakagawa and Laura Fukumoto.
Doors Open: 6:30pm
Suggested Donation: $10

Masaji . Last modified Sep 30, 2022 3:37 p.m.
---