Seattle Nikkei History: 120 Years of the North American Post | Speaker Series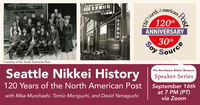 𝗦𝗲𝗽𝘁𝗲𝗺𝗯𝗲𝗿 𝟭𝟲, 𝟮𝟬𝟮𝟮 𝗮𝘁 𝟳 𝗽𝗺 - 𝟴 𝗽𝗺 (𝗣𝗧) 𝘃𝗶𝗮 𝗭𝗼𝗼𝗺 (𝘀𝗶𝗴𝗻-𝗶𝗻 𝗿𝗲𝗾𝘂𝗶𝗿𝗲𝗱) 𝗶𝗻 𝗘𝗻𝗴𝗹𝗶𝘀𝗵
For 120 years, The North American Post (NAP) has been providing Seattle's Japanese American community with local updates and news straight from the heart of Nihonmachi or Seattle's Japantown.
Join us on September 16th, as Misa Murohashi (former NAP general manager), Tomio Moriguchi (NAP, Inc. CEO and publisher), and David Yamaguchi (NAP editor) discuss their experience and roles at Seattle's oldest, minority-owned publishing company serving the Japanese and Japanese American (JA) community since 1902. Dedicated to preserving the impact and legacy of this community, The North American Post highlights community leaders, events, businesses, and other relevant topics.
(Photo courtesy of the North American Post)
 Register today!
https://www.jcccw.org/speaker-series
(Registration will close on September 15th, at 5PM (PT).
-------
About the Northwest Nikkei Museum Speaker Series
Learn about Japanese American history and community development through a new, monthly program with the Northwest Nikkei Museum(NNM)! We'll cover a variety of topics and perspectives related to Japanese Americans in the Northwest and beyond, with a new speaker every third Friday of the month!

jcccwa . Last modified Aug 30, 2022 12:31 p.m.
---