Community & Resilience: Japanese American Farms in the Pacific Northwest | Speaker Series
Virtual
www.jcccw.org/speaker-series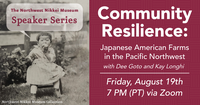 𝗔𝘂𝗴𝘂𝘀𝘁 𝟭𝟵, 𝟮𝟬𝟮𝟮 𝗮𝘁 𝟳 𝗽𝗺 - 𝟴 𝗽𝗺 (𝗣𝗧) 𝘃𝗶𝗮 𝗭𝗼𝗼𝗺 (𝘀𝗶𝗴𝗻-𝗶𝗻 𝗿𝗲𝗾𝘂𝗶𝗿𝗲𝗱) 𝗶𝗻 𝗘𝗻𝗴𝗹𝗶𝘀𝗵
Did you know that at one point, Japanese dairy farmers supplied Seattle with as much as 50% of all its dairy? How about a beloved local delicacy — a cultivated strawberry variety preserved and shared with the world through Japanese farming techniques? Farming has and continues to serve as a vital facet of the Pacific Northwest's Japanese American community, persisting since the early 20th century despite the racially-motivated laws and policies which threatened many families' livelihoods.
Join us on August 19th, as Dee Goto and Kay Longhi discuss their histories with Japanese American farms in Washington. Dee Goto, a descendant of Seattle dairy farmers, will be discussing the White River Dairy creamery while former president of "Friends of Mukai" Kay Longhi discusses Vashon Island's Mukai Farm and their fruit harvests and packing innovations. Come, listen, and learn as we discuss this local history with those from our community!
(Photo from the Seike family farm, Northwest Nikkei Museum Collection)
 Register today!

https://www.jcccw.org/speaker-series
(Registration will close at 5 pm (PT) on August 18, 2022)
-------
About the Northwest Nikkei Museum Speaker Series
Learn about Japanese American history and community development through a new, monthly program with the Northwest Nikkei Museum(NNM)! We'll cover a variety of topics and perspectives related to Japanese Americans in the Northwest and beyond, with a new speaker every third Friday of the month!

jcccwa . Last modified Aug 08, 2022 6:03 p.m.
---