LIVE MUSIC: William Alexander, Okinawan American Funk-Soul Musician
2220 Arts + Archives
2220 Beverly Blvd.
Los Angeles, California, 90057
United States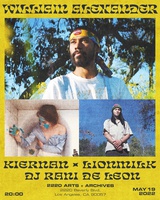 Attachments
Fresh off of a tour across the U.S., William Alexander returns to his native Los Angeles for his first headlining show of 2022. William's family is from Kitanagasuku, Okinawa.
William Alexander's self produced 2021 songtape "The Uncut Tree", is brought to life, deconstructed and reimagined through the lens of thoughtful, acoustic funk-soul.
Purchase tickets ($15, ages 21+):
https://link.dice.fm/DYaF5wl2Ypb
COVID-19 entry policy: Negative test (48 hours), Proof of vaccination
Preview/purchase his music:
https://wxxl.bandcamp.com/music

Also performing:
After years behind the scenes penning hits for pop artists, Kiernan's penchant for songwriting and intimate prose take center stage with "A Visit Home" - her first single as a solo artist.
Lionmilk continues his prolific nature, allowing for a live glimpse into a soon to be released project of new material since the acclaimed improvisational masterclass, "O.T.S." (Preference Records).
Musician, cultural / musical programmer, and master selector Rani de Leon has long been one of LA's most revered ambassadors of the world's most eclectic sounds.

josephkamiya . Last modified May 18, 2022 4:19 p.m.
---