Isshoni: Dr. Shimizu's Paintings of New Denver, BC Internment
Legacy Art Gallery Downtown
630 Yates Street
Victoria, British Columbia, V8W 1K9
Canada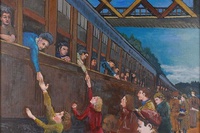 Paintings of internment carry the echo of three generations
A new exhibition opening April 22 at UVic's Legacy Art Gallery Downtown focuses on Japanese Canadian identity, community and family. 
Isshoni: Henry Shimizu's Paintings of New Denver Internment centres the voices of three generations—issei (first generation) pioneers who came to Canada from Japan in the late 1800s, nisei (second generation) and sansei (third generation)—to provide deep insights into the intergenerational trauma of the forced uprooting and internment of Japanese Canadians during the Second World War.
Dr. Henry Shimizu was born in Prince Rupert in 1928. In 1942, he was one of 21,460 Japanese Canadians involuntarily relocated from BC's coast and interned during the war—with homes, farms, businesses and priceless personal belongings dispossessed as the direct result of racist legislation and a sustained federal campaign by the Canadian government. Shimizu was only a teenager at the time.
When Shimizu and his family were released after years of confinement in the Slocan Valley from an internment camp consisting of 16 dozen wood shacks (with only one outhouse for every 50 persons), they moved to Edmonton—leaving BC behind, where his father had owned the New Dominion Hotel in Prince Rupert before the war. 

Masaji . Last modified May 06, 2022 6:09 a.m.
---