Terasaki Budokan Grand Opening
Terasaki Budokan
249 S Los Angeles St.
Los Angeles, California, 90012
United States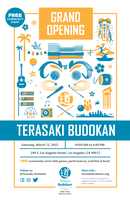 You're invited to Terasaki Budokan's Grand Opening Celebration! Come explore the facility while you take part in this FREE community event with games, performances, activities and food!
When: March 12, 10 AM- 6 PM
Where: Terasaki Budokan 249 S Los Angeles St., Los Angeles, CA 90012
Who: All are invited to this community event!
Website: https://www.terasakibudokan.org/activities/grand-opening/

rchutachikawa . Last modified Mar 03, 2022 10:22 a.m.
---