Executive Order 9066 | Speaker Series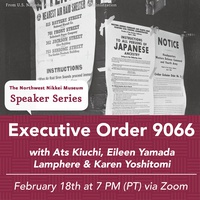 We will be hosting a panel with community members Ats Kiuchi, member of Omoide writing group , Eileen Yamada Lamphere , President of Puyallup Valley Japanese American Citizens League (JACL) ,and Karen Yoshitomi, Executive Director of the JCCCW, in honor of Day of Remembrance and the 80th anniversary of Executive Order 9066.
During the hour, viewers will listen to these community members' roles in the Japanese American community and their experiences with the lasting effects of EO9066.

✅ Register today!
https://www.jcccw.org/speaker-series
(Registration will close at 5 pm (PT) on February 17, 2022)

-------
About the Northwest Nikkei Museum Speaker Series
Learn about Japanese American history and community development through a new, monthly program with the Northwest Nikkei Museum(NNM)! We'll cover a variety of topics and perspectives related to Japanese Americans in the Northwest and beyond, with a new speaker every third Friday of the month!

jcccwa . Last modified Feb 09, 2022 6:21 p.m.
---