Life at Minidoka Concentration Camp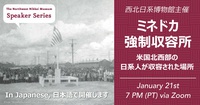 January 21, 2022 at 7 pm - 8 pm (PT) [January 22, 2022 at Noon - 1 pm (JST)] via Zoom (sign-in required)
[In JAPANESE]
During WWII, about one hundred and twenty thousand Nikkei were sent to the internment camps. Most people in Seattle were forced to leave their homes and sent to the internment camp located in Hunt, Southern Idaho. The distance is about 10 hours by car. At the 11th Speaker Series presented by the Northwest Nikkei Museum, we will introduce life in the Minidoka Concentration Camp in JAPANESE. During the presentation, we will include historical artifacts from the camp, and invite Shokichi Tokita, the Nisei person who actually lived in the camp.
● Register today!
https://forms.gle/k5UjWcUhe7BqA9ZU6
(Registration will close at 5pm PDT on January 20, 2022)
●About the Speaker Series
https://www.jcccw.org/speaker-series 

jcccwa . Last modified Dec 22, 2021 12:43 p.m.
---