Holiday Tales with Stanley Hayami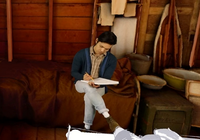 In this immersive experience, get transported back to the 1940s with actor Kurt Sanchez Kanazawa, the voice of Stanley Hayami in A Life in Pieces, as he reads aloud from the letters and diaries of Stanley. Diary entries and letters will be selected from his time during the winter holidays in the Heart Mountain concentration camp and the 442nd Regimental Combat Team.
Please note there will be three similar readings per day, each lasting around 20 minutes. RSVPs are recommended, limited walk-in availability.
RSVP for Saturday, December 18th:
RSVP for Sunday, December 19th:

JANM . Last modified Dec 07, 2021 1:09 p.m.
---