Artisan Craft & Holiday Gift Sale
Japanese Cultural & Community Center of Washington
JCCCW
1414 S Weller Street
Seattle, Washington, 98144
United States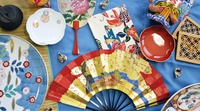 Reserve an appointment to shop at the JCCCW's first Artisan Craft & Holiday Gift Sale that will be held on Saturday & Sunday, the 20th and 21st of November, 2021 from 10AM to 4PM both days. This sale will include many of the beautiful and unique Japanese items from the 2021 Bunka no Hi exhibit, as well as many other collectible items and art from our inventory, to add to your own collection or give as a gift for the Holidays.
Appointments will be required for this event. Appointments will open on the 1st of November at 10AM at https://www.jcccw.org/artisan-craft-and-holiday-gift-sale

jcccwa . Last modified Oct 21, 2021 2:09 p.m.
---