Screening and Q&A — KIKAN: The Homecoming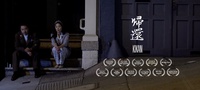 Join the cast and crew of KIKAN: The Homecoming for a screening of this film exploring the story of a Japanese American soldier during WWII. The post-screening discussion will feature Writer and Director Kerwin Berk, Director of Photography Ben Arikawa, and actors Ryan Takemiya, Anna Sun, and Kealoha Nakamura.
About the Film:
A wartime promise sends Pvt. Jimmy Ibata of the 442nd Regimental Combat Team on a life-changing journey from the battlefields of Europe to San Francisco to complete his final mission of World War II. The all-Nikkei cast features Ryan Takemiya (Valley of the Heart), Ken Takeda, Anna Sun, Hiroshi Kashiwagi (Infinity & Chashu Ramen), and Chizu Omori (Rabbit in the Moon).
This program is held in conjunction with the exhibition, A Life in Pieces: The Diary and Letters of Stanley Hayami.

FREE for JANM Members 
RSVP HERE: https://9644p.blackbaudhosting.com/9644p/tickets?tab=2&txobjid=2f662770-cf71-41e3-8ca4-03d58ba175be

JANM . Last modified Sep 23, 2021 11:23 a.m.
---