Kudo Kids Virtual Book Event With Olympic Medalists Maia & Alex Shibutani
Japan Society
333 East 47th Street
New York, New York, 10017
United States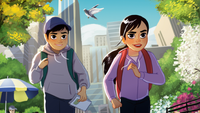 Join us for this fun and interactive online book event for young people and figure skating fans, featuring two-time Olympic bronze medalists Maia and Alex Shibutani (aka the ShibSibs). At the 2018 Winter Games in PyeongChang, they became the first ice dancers of Asian descent to medal at the Olympics and are only the second sibling duo in the history of the sport to share an ice dancing medal. The Shibutanis are also the authors of the Kudo Kids book series, geared for ages 8-12—including The Mystery of the Masked Medalist and their latest release, The Mystery in Manhattan. Along with a chat about their Olympic experiences, they will discuss how their travels to Tokyo inspired their first book about the Tokyo 2020 Olympics, and how their time in NYC helped to craft their new book. Viewers can submit questions in advance as well as purchase autographed copies of their books during the registration process.
This program is part of our Passing the Torch series, a celebration of the upcoming Tokyo Summer Games.
This is a free event, with advance registration required. Suggested donations are welcome to support our innovative programs. This program will be conducted online via Zoom. Registrants will receive the viewing link by email in advance of the event.
For more information visit our website: https://japansociety.org/series/passing-the-torch/kudo-kids-olympic-medalists-maia-alex-shibutani
Saturday, June 19, 12 PM EDT

JSeducation . Last modified Jun 14, 2021 7:55 a.m.
---