National Park Service Amache Special Resource Study Public Scoping Meeting #2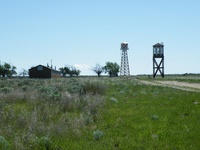 The National Park Service (NPS) is restarting the special resource study of the Granada Relocation Center, more commonly known as Amache. Authorized by Congress in 2019 under the John D. Dingell, Jr. Conservation, Management and Recreation Act, the study will evaluate Amache's potential for inclusion in the national park system.
Following the outbreak of COVID-19 and cancellation of public meetings in 2020, three additional virtual public meetings will be held in May 2021 as a continuation of public involvement efforts for this study. As outreach moves forward in a virtual format, the NPS welcomes the public to submit comments about Amache. The public comment period has been extended to June 30, 2021.
Public involvement is a key aspect of the Amache Special Resource Study, and the study team welcomes your thoughts, ideas and feedback. You can learn more about Amache and the special resource study underway through the study newsletter (see link below).
https://parkplanning.nps.gov/projectHome.cfm?projectID=92521
Virtual Meetings Schedule:
2. Wednesday, May 26, 2021
2:30 p.m.–4:30 p.m. PST (3:30 p.m.–5:30 p.m. MST)
Online: https://brown.zoom.us/j/94315127736
Phone: (877) 853 5247.
Meeting ID: 943 1512 7736
Comments can also be submitted online at:
https://parkplanning.nps.gov/document.cfm?parkID=415&projectID=92521&documentID=101266


mhomma . Last modified May 17, 2021 8:02 p.m.
---