Discover Nikkei's Nima Voices: Episode 4—Juan Alberto Matsumoto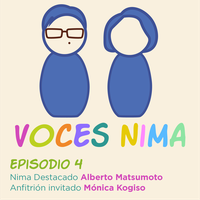 Tuesday, April 27
4 p.m.–4:30 p.m. (PDT)
8 p.m.–8:30 p.m. (Buenos Aires)
April 28 • 8 a.m.–8:30 a.m. (Tokyo)

FREE
"Nima" are members of the Discover Nikkei online community. Hailing from all around the world, they each bring unique experiences and perspectives to the site's rich archive of stories.
Nima Voices is an interview series where we uplift our Nima through brief, but enlightening, interviews. Join us for our first Spanish language episode! Hear from Discover Nikkei contributor Juan Alberto Matsumoto as he is interviewed by our guest host, Mónica Kogiso . Alberto and Mónica are both Nisei, originally from Escobar, Argentina. They will be talking about Japanese Argentinean communities and Latin American Nikkei in Japan.
Juan Alberto Matsumoto moved to Japan in 1990 where he is the founding CEO of Idea Network Consulting, a Spanish lecturer at Shizuoka Prefectural University and Latin American Economy & Law at Dokkyo University, judicial interpreter at Tokyo & Yokohama Court, columnist for Mercado Latino & Latin-a Magazine , and Latin American Nikkei scholarships' instructor at JICA Yokohama International Center. He is a veteran of the Malvinas War. Alberto has been a consultant and contributor to Discover Nikkei since 2007. Read his articles here before tuning in for this live interview and Q&A on the Discover Nikkei YouTube channel.
Monica Kogiso is a communicator and cultural bridge between Japan and Argentina. She is a production coordinator for Japanese media and organizes trips and events that promote ties among various peoples and cultures. She is a former president of Centro Nikkei Argentino, and participates actively in the Panamerican Nikkei Association. She promotes and works to support the development of Nikkei youth leaders in Argentina and Latin America. She has been a longtime collaborator with Discover Nikkei.
Watch the program live on the Discover Nikkei YouTube channel on April 27, 2021 at 4 p.m. (PDT). This episode will be in Spanish only.

We encourage you to subscribe to our channel so you will be notified when the video is streaming live.

editor . Last modified Apr 27, 2021 6:22 p.m.
---