Remembering History. Empowering the Next Generation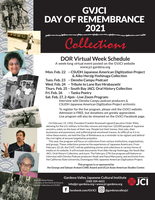 Each year, the Gardena Valley Japanese Cultural Institute (GVJCI) holds its annual Day of Remembrance (DOR) which commemorates the incarceration of Japanese Americans during WWII. A different theme and related film is selected each year, and a panel of experts is carefully selected to help further educate the community on the events, experiences, and lessons that should be learned from this time in American history.

JANM . Last modified Feb 16, 2021 12:18 p.m.
---