Northwest Nikkei Museum Speaker Series
Washington
United States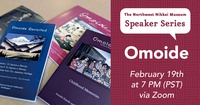 Join us for our new, monthly program and learn about Japanese American culture and history with the Northwest Nikkei Museum (NNM)! On the third Friday of every month we will host a speaker, covering a variety of topics and perspectives related to Japanese Americans in the Greater Seattle Area and beyond!
Join the NNM and Omoide on Friday, February 19th starting at 7PM (PST) via Zoom for the first of the series to discuss Day of Remembrance. Omoide is a unique writing program that has introduced the Nikkei experience to several thousand students, 200 teachers, and 400 members of the general public for more than a decade. Free to attend, but registration required.
Check out other upcoming speakers at https://www.jcccw.org/speaker-series.


jcccwa . Last modified Feb 04, 2021 2:05 p.m.
---