Building & Bridging Part II: Building Relationships Into the Future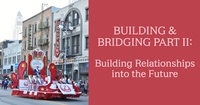 FREE
Japanese corporations and Japanese American communities have a long and complex history that weaves together stories of immigration, industrial expansion, and the building of neighborhoods, businesses, and banks. With a focus on Los Angeles, this two part program brings together speakers that represent a broad spectrum of Japanese corporations in the U.S. and Japanese American communities to discuss the past, present, and future relationships of these two groups.
This second part will highlight how both Japanese corporations and Japanese American communities can continue to cultivate these relationships to move towards a stronger and vibrant future for all.
Featured Speakers:
Paul Yonamine, Executive Chairman, Central Pacific Bank; Chairman & CEO, Central Pacific Financial Corporation; Chair, USJC Board of Directors
Tracey Doi, Chief Financial Officer, GVP, Toyota Motor North America; Board Member, JANM
Yuichi Mitsumori, Head of Japanese Business Banking MUFG Union Bank, N.A.; Head of Los Angeles Branch, Mitsubushi UFJ Bank; President, JBA; Board Member, JANM
Moderator:
Yuko Kaifu, President, Japan House (Los Angeles)
This program will be in English with simultaneous translation into Japanese.
RSVPs are required using the link below. You will be emailed links and instructions to join our conversation on Zoom. Please confirm that the email that you register with is the best way to reach you. Contact publicprograms@janm.org if you have any additional questions or specific access concerns.
RSVP NOW

Building and Bridging is co-presented by The Consulate General of Japan in Los Angeles & Japan Business Association of Southern California

JANM . Last modified Feb 02, 2021 1:46 p.m.
---