Japanese Soufflé Pancakes: A Valentine's Treat
NYC
Online
NYC, 10017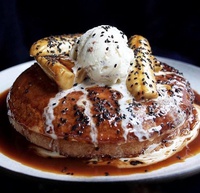 PLEASE NOTE: This workshop will be conducted online via Zoom. Registrants will receive the viewing link by email on the day of the event. Please note that all times listed are New York time (ET).
Soft and fluffy, sweet and light, Japanese soufflé pancakes have captured the hearts of foodies around the world. This delectable comfort food is a must for both pancake and dessert lovers, but mastering these tall and delicate pancakes at home can seem daunting. Join us at this virtual workshop where Maiko Kyogoku, owner of New York-based Japanese restaurant Bessou, teaches how to cook soufflé pancakes in the comfort of your own home. She will be assisted by Bessou cook Sanju Gurung. This Valentine's Day, let Japanese soufflé pancakes be the perfect sweet treat for someone special, or simply treat yourself!

japansociety . Last modified Jan 04, 2021 9:55 a.m.
---