An Art Progression From Buddhist Carving To Urushi Ware, Kamakura-Bori
Japan Society
333 E 47th St
New York, New York, 10017
United States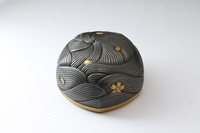 VIRTUAL EXHIBITION
An Art Progression From Buddhist Carving To Urushi Ware, Kamakura-Bori
"-The Goto family continues twenty-nine generations-"

Kamakura-bori is a form of urushi lacquerware from Kamakura, Japan. It traces its history to the Buddhist image sculptors working around 800 years ago, when Zen Buddhism was first introduced to Japan from China. As part of our Get to Know Kanagawa series, you can enjoy exquisite examples of this carving art made by the Goto family, which has been creating Kamakura-bori for 29 generations.


japansociety . Last modified Nov 18, 2020 8:19 a.m.
---