The 5G Era: Transforming Business, Industries & Society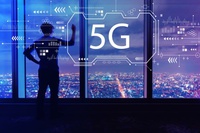 5G, the next-generation mobile network that promises to move data at greater speeds and connect huge volumes of devices, is already being deployed in urban areas in Japan and some major U.S. cities. While giving consumers access to more information faster than ever before, 5G's biggest impact will be on industries and businesses, transforming the way they operate and function. What are the key benefits and challenges of 5G technology, and how will it change the way we work and communicate throughout the world? In this program, speakers offer their views on the advantages and disadvantages of 5G, its potential impact on society, and the prospects of U.S.-Japan collaboration.
Speakers:
Elsa B. Kania, Adjunct Senior Fellow, Technology and National Security Program, Center for a New American Security
Yuka Koshino, Research Fellow for Japanese Security and Defence Policy, International Institute for Strategic Studies
Muriel Médard, Cecil H. Green Professor, Electrical Engineering and Computer Science, Massachusetts Institute of Technology
Kazuo Noguchi, Senior Manager, Cyber Security Team, Research & Development Division, Hitachi America, Ltd.
This is a virtual event.
Please register at https://docs.google.com/forms/d/e/1FAIpQLScOhOMFHQe5gNtvyv4fxl-RbyPcidaMGpsXa65WyPas3WaCvQ/viewform .

JapanSocietyCW . Last modified Oct 06, 2020 11:44 a.m.
---