Virtual Kokoro 2020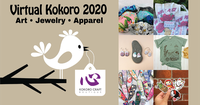 The 12th Annual Kokoro Craft Boutique is going virtual this year! From November 14–30, shoppers can shop online or by phone with many familiar crafters, plus some new ones.
A video featuring many of our talented crafters talking about their beautiful, hand-crafted products, as well as photos from all our participating crafter/vendors will be posted on YouTube.com/janmdotorg starting on Saturday, November 14. Check back for updates!
VENDORS
6 Degrees of Hapa
Acorn Works
Alyson Iwamoto Ceramics
Art Mina
BGK Gems
Bizu
Boy Cherie Jewelry
Charming Little Lotus
Color Conscious
Creative Handcrafted Gifts
DaTojos
Ecommshipments
Fugetsu-Do
Happyshirts
imoriknits
JKiyomi
Joan Flax
Kelley's Kookies
Kiobi Designs
Kirei Cositas
Komodomazo
Lileeku
Madame Sakura Craft
Mi So Happi
N & M Enterprises
Papermum Press
Parasol Paperworks
Pomegranate
Pontigo
Pulp X Stitch
sewKimono
Shibori Girl Studios
Simmisu Paper Co
Solsiss
Some Mo Craft
Stacy Wong
Studio Engravers
Susan Facklam Jewelry
Suzye Ogawa Designs
TABFabric
Vendor contact information will be posted on Nov 14.
Shoppers' purchases from November 14–30 will support JANM's education programs. Buy products from vendors directly and write "Kokoro2020" on all of your orders. JANM will receive a portion from each purchase!
Brought to you by Friends of the Museum.
Visit janm.org/kokoro or email the JANM volunteers at kokorocraft@gmail.com for more information.

JANM . Last modified Nov 12, 2020 11:53 a.m.
---