Art + Activism: In Defense of Black Lives
Japantown Peace Plaza
1610 Geary Blvd
San Francisco , California, 94115
United States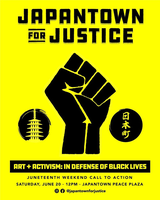 Japantown for Justice is a group of young Japantown community members is organizing a response to @M4BL's (Movement for Black Lives) call to action for Juneteenth weekend.
They will be creating thoughtful community art in solidarity with the Black community. This family-friendly art event is one of many steps we are taking to mobilize and unite our community to #DefendBlackLives.
Hand sanitizer and masks will be provided for those who don't have one. There will also respect 6-foot social distancing guideline.
Sign up online at: http://bit.ly/j4jvolunteers

msaito4 . Last modified Jun 18, 2020 1:43 p.m.
---