Japan's Alcohol Traditions: Sake, Shochu, Whisky & More
Japan Society
333 E 47th Street
New York, New York, 10017
United States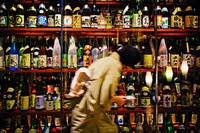 TALK
The scope of alcoholic beverages in Japan encompasses traditional drinks like sake, as well as Japanese interpretations of historically Western beverages. Japanese whisky, whose early fans included such luminaries as Jean-Paul Sartre and Ian Fleming, is today acclaimed as some of the world's best. In this day and age, it isn't even necessary to travel to Japan to enjoy some of the country's finest alcohol; much of it can be found right here in New York. At this talk, Stephen Lyman, co-author of The Complete Guide to Japanese Drinks: Sake, Shochu, Japanese Whisky, Beer, Wine, Cocktails and Other Beverages, will be your personal guide to Japan's alcohol traditions.
Followed by a book sale and signing accompanied by a sampling of Japanese drinks.
Must be 21 years of age, or older.

Tickets: $15/$12 members, seniors & students


japansociety . Last modified Feb 10, 2020 2:09 p.m.
---