Ryukyukoku Matsuri Daiko L.A. 25th Anniversary Concert (Okinawan Drum-Dancing)
James R. Armstrong Theatre
3330 Civic Center Drive
Torrance, California, 90503
United States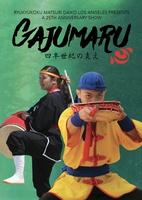 25 years of Ryukyukoku Matsuri Daiko Los Angeles:
Okinawan drum-dance group to host milestone concert in Torrance
In 2020, the Ryukyukoku Matsuri Daiko – Los Angeles Branch (RMDLA) is proud to celebrate 25 years of spreading the Okinawan spirit across Southern California. To celebrate this momentous occasion, they will be holding an anniversary concert entitled Gajumaru: Shihanseiki no Sasae on February 15 (Saturday), 5 p.m., at the James R. Armstrong Theatre in Torrance, CA. Tickets are available online: tinyurl.com/rmdla25
As the art of taiko drumming continues to gain popularity throughout the world, the art of eisa, or Okinawan festival drumming, has also gained popularity. Though there are many eisa groups in existence, Ryukyukoku Matsuri Daiko is perhaps one of the most internationally recognized for its fusion of odori (traditional dance) and karate movements. Performers dance and drum simultaneously to an exciting blend of traditional and contemporary Okinawan and Japanese music.
Founded in 1982, Ryukyukoku Matsuri Daiko has branches across Japan, North America, and South America. Since its formation in 1995, the Los Angeles branch has continued to perform for various occasions around the community. Some of their recent events include performances at the Dodgers and Clippers games. They have also continued to actively perform in local events such as the Monterey Park Cherry Blossom Festival and the Torrance Sister City Bunka-Sai.
RMDLA's 25th anniversary concert will be an international celebration with the Los Angeles branch being joined by members from Peru, Bolivia, Brasil, Argentina, Mexico, Okinawa, and Ohio state. Additionally, their dynamic choreographies, powerful drumming, and festive costumes will be accentuated by theatre-style lighting and audio, ensuring a must-see performance.
The show's title, Gajumaru, stems from the gajumaru tree, also known as the banyan tree, a tree in Okinawa that is known for its strong support given from its several branches. The tree is also known for its long lifespan. The group decided on this title to express appreciation for all the support they have received in the past 25 years, as well as to illustrate their hope that the group lasts for many more years, like the strong gajumaru tree. The subtitle, Shihanseiki no Sasae, is a Japanese phrase that translates to "quarter-century of support" as another way to showcase their gratitude to everyone who has supported them throughout this journey.
The James R. Armstrong Theatre is located at 3330 Civic Center Drive, Torrance 90503. Tickets are available online for $20 (tinyurl.com/rmdla25) or at the door for $25. For more information, please contact the group at rmd.losangeles@gmail.com (310) 662-3558 (please leave a voicemail).


josephkamiya . Last modified Dec 30, 2019 9:28 p.m.
---