Family Workshop: Kakizome New Year's Calligraphy
Japan Society
333 E 47th St
New York, New York, 10017
United States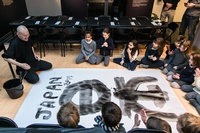 Immerse yourself in the many aspects of traditional and contemporary Japanese culture through uniquely themed visual art and performance workshops led by teaching artists. Each month will explore a different topic.
Participants will enjoy a Japanese calligraphy demonstration on a giant scale performed by artist Taisan Tanaka. Afterwards, families will be guided through the time-honored tradition of kakizome - calligraphy written at the beginning of the new year to represent wishes and resolutions.
For kids 6-10 years old and their caregivers

JSeducation . Last modified Dec 13, 2019 12:23 p.m.
---