Make Your Own Toshikoshi Soba with Sonoko Sakai
Japanese American National Museum
100 North Central Avenue
Los Angeles, California, 90012
United States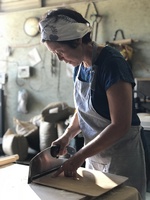 Make soba using fresh, stone-milled artisanal flour from Japan and authentic soba tools. This soba will be served in the classic way: cold with fresh soy-based dipping sauce, toppings, and spices.
Soba is a type of noodle traditionally made from buckwheat flour, or a combination of buckwheat and wheat flours. In Japan, many people celebrate special occasions by eating soba. For example, many celebrate New Year's Eve by eating toshikoshi soba or when moving into a new residence, people will serve their new neighbors hikkoshi soba.
Wear closed-toe shoes with soft soles. Bring an apron and a lightweight lidded container to take your soba home. $64 members; $80 non-members. Includes museum admission. RSVP early, 16 participants max.
TICKETS AVAILABLE NOW >>
In the Nancy K. Araki Community Education Center
Check janm.org for updates.

JANM . Last modified Nov 27, 2019 1:53 p.m.
---