Special Duty: A History of the Japanese Intelligence Community
Japan Society
333 East 47th Street
New York, New York, 10017
United States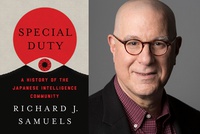 Intelligence communities are everywhere and always in motion. Japan's has been no exception, often shifting in response to dramatic analytical and organizational failures, changes in the regional and global balance, and sudden technological developments. In this program, Richard J. Samuels, Ford International Professor of Political Science and Director of the Center for International Studies at MIT, discusses the evolution of Japan's intelligence community and its future.
For signups and more information, please visit our event webpage. You can also contact Japan Society's Business & Policy Program via register@japansociety.org or at 212-715-1208.



JSBizPol . Last modified Sep 18, 2019 12:56 p.m.
---