Gambatte Kimashita: Japanese Flower Growers of the Salinas Valley
Japanese Cultural and Community Center of Northern California
1840 Sutter Street
San Francisco, California, 94115
United States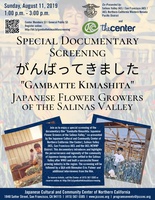 Join us to enjoy a special screening of the recently completed documentary film "Gambatte Kimashita: Japanese Flower Growers of the Salinas Valley." The documentary contains oral histories of the community of Japanese immigrants who arrived after WWII and built a successful flower growing industry in the Salinas Valley. The film's production was also sponsored by the Salinas Valley chapter of the Japanese American Citizens League. The screening will be followed by a discussion with filmmaker Eric Palmer and additional interviewees from the film.
Tickets are priced at $3.00 for Center members and $5.00 for General Public!
Please reserve your tickets at http://bit.ly/gambattekimashitascreening.

caelynnhwang . Last modified Jul 29, 2019 11:10 a.m.
---