A Dash of Dashi: The Secret to Umami
Japan Society
333 East 47th Street
New York, New York, 10017
United States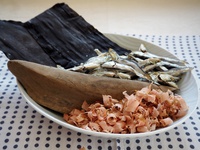 If you've eaten Japanese food, you've almost certainly had dashi. This broth is a fundamental element of Japanese cooking, imparting that elusive umami quality to many beloved dishes, from home cooking to haute cuisine. Kombu (kelp), shiitake mushrooms, katsuobushi (dried bonito)—so many flavorful ingredients can be the base for this simple yet essential broth. At this talk, Chef Mitsuru Kita, Japanese food consultant and owner of Cook de Kita LLC, discusses dashi flavor profiles, ingredients and cooking tips.
Followed by a dashi sampling reception. This program will be presented in Japanese with consecutive interpretation in English.

japansociety . Last modified Jan 31, 2019 9:05 a.m.
---